Choosing the right rug for a room is crucial to create a harmonious and balanced aesthetic. And one of the basics of choosing the right rug for room is to pick the right size for it? Regarding this, the right rug size for 1`2X13, the most standard apartment room, can be tricky. You have to balance between open and covered space and furniture placement.
So, what size for a 12X13 room is ideal? Also, how do you find the right rug size for any room and what type of rug should you choose? These questions often pop-up in your mind and you want an answer, right?
In the case of a 12×13 room, the ideal rug size is 9X12. You can choose from an area rug, shag rug or even Persian rug. So, we will explore the ideal rug size for a 12×13 room, discuss standard rug sizes for various room dimensions, and provide tips on finding the perfect rug size for any room.
What Size Rug for a 12×13 Room? – [Experts Answer]
The ideal rug size for a 12×13 room is typically a 9×12 rug. This size offers a good balance between sufficient coverage for the floor space and proper furniture placement. Therefore, you can maintain both aesthetics of your room and also, place all furniture you want appropriately.
A 9×12 rug measures 9 feet in width and 12 feet in length. So, it provides ample room to accommodate various furniture arrangements. It is particularly suitable for living rooms, dining rooms, or bedrooms in a 12×13 room. Moreover, with the 9X12 rug, you can efficiently anchor your seating area or bed on the rug while leaving a border of exposed flooring around the edges. It helps you to create a perfect ambience for diabetic people too.
As you place the front legs of sofas, chairs, or the foot of the bed on the rug, you create a cohesive and visually pleasing look. Thus, the arrangement helps define the seating or sleeping area while adding warmth and comfort to the room.
The different rug types for a 12×13 room:
Finding the right rug size for a 12X13 room isn't enough. You must also choose the right rug type for it so that it complements the room design and furniture. Otherwise, the rug will only be a non-cohesive addition and you will not feel comfortable with it.
Area Rug:
An area rug is a versatile option for a 12×13 room. It comes in various materials, patterns, and textures. Therefore, the area rug allows you to choose one that complements your room decor. You can match the colors, textures and what not!
For example, a plush, neutral-toned area rug can create a cozy ambiance in a living room. On the other hand, a patterned rug with vibrant colors is ideal for adding visual interest.
Shag Rug:
A shag rug with its long, fluffy pile will add a luxurious and soft feel to a 12×13 room. It works well in bedrooms or living areas where you want to create a cozy and inviting atmosphere. So, you may opt for a shag rug in a solid color or with subtle patterns to complement the room's decor.
Persian or Oriental Rug:
Are you looking to add elegance and timeless beauty to your 12×13 room? If so, you can choose a Persian or Oriental rug can be an excellent choice. These rugs feature intricate designs and rich colors, instantly enhancing the visual appeal of the space. They work well in living rooms, dining rooms, or even home offices.
However, Persian rugs can be expensive and so, you must check if it matches your budget. Also, these oriental rugs need maximum maintenance and may not be suitable with pets at home. So, you must consider these facts closely before choosing a Persian rug.
Flatweave Rug:
A flatweave rug, such as a kilim or dhurrie, can be a practical and stylish option for a 12×13 room. These rugs are usually made of woven fabric, resulting in a flat and durable surface. They work well in high-traffic areas or rooms with a more casual and relaxed aesthetic.
Jute or Natural Fiber Rug:
For a room with a more natural or bohemian vibe, a jute or natural fiber rug can be a great choice. These rugs are made from sustainable materials and offer a textured and earthy look. They work well in living rooms, bedrooms, or even entryways, adding a touch of organic warmth to the space.
As you choose the rug type for a 12X13 room, you must consider your personal style and the overall decor of the room. On top of it, you should consider the specific needs of the space when choosing a rug for your 12×13 room.
You can experiment with different textures, colors, and patterns to find the rug that enhances the visual appeal and functionality of the room.
What Is the Standard Rug Size for a Room?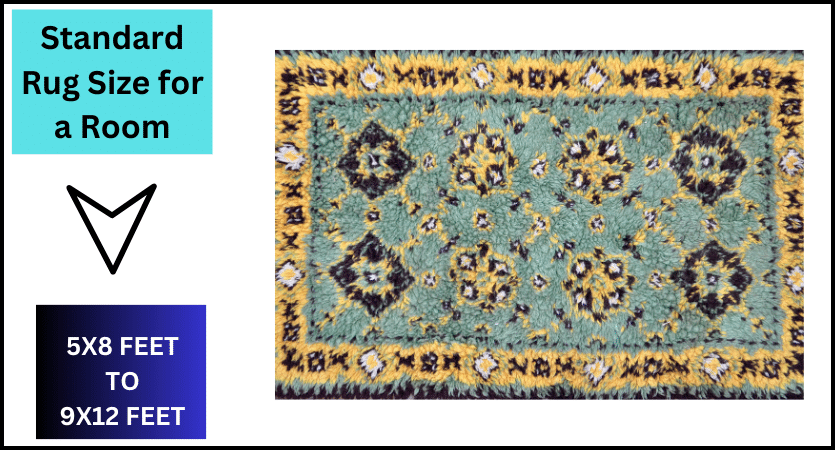 The standard rug size for a room can vary depending on the dimensions, layout, and specific needs of the space. However, there are common standard rug sizes that are widely used and readily available in the market.
The most popular standard rug sizes typically range from 5×8 feet to 9×12 feet. These dimensions provide a good balance between floor coverage and furniture placement. A 5×8 rug, for example, is suitable for smaller areas such as bedrooms or cozy seating nooks. It can accommodate a bed or a small seating arrangement, providing a comfortable and visually pleasing space.
A slightly larger size, like a 6×9 or 8×10 rug, is often used in medium-sized rooms such as living rooms or dining areas. These sizes allow for more furniture coverage while leaving a visible border of flooring around the edges, which can help define the space and create a balanced look.
Small Bedroom or Study (8×10 room):
For smaller spaces like a bedroom or study, an 8×10 rug can work well. The size ensures you have enough space for the bed or desk area. At the same time, you can leave some visible floor space around the edges.
Living Room or Dining Room (12×15 room):
In larger rooms, such as living rooms or dining rooms, a 9×12 rug may appear too small. Instead, you may opt for a 12×15 rug.
It can accommodate the furniture arrangement more comfortably and create a cohesive visual effect. For this rug size, you can also leave 6-inches to 12-inches space between the rug and the furniture to ensure a profound look of the floor.
Open Plan Space (16×20 room):
Open plan spaces require larger rugs to delineate different areas within the room. A 12×18 rug would be suitable for defining the open living area such as the gazebo. On the other hand, you can use a separate 9×12 rug for the dining section.
It will ensure each space feels distinct yet connected.
Small Office or Den (10×12 room):
For smaller office spaces or dens, a 6×9 rug can be an excellent choice. It provides enough coverage to anchor a desk or seating area.
At the same time, you can maintain a balance between the rug and the surrounding floor. So, it gives a nice aesthetic and also ensures proper arrangement of everything. It will, further, elevate the appearance of the space.
Entryway or Foyer (8×10 room):
In an entryway or foyer, a smaller rug is typically used to create a welcoming first impression. A 4×6 or 5×7 rug can fit well in these spaces, allowing for easy traffic flow and providing a stylish accent to the area.
| | |
| --- | --- |
| Room Size | Ideal Rug Size |
| 8×10 | 8×10 or 6×9 |
| 12×15 | 12×15 or 9×12 |
| 16×20 | 12×18 and 9×12 |
| 10×12 | 6×9 |
| 8×10 | 4×6 or 5×7 |
How to Find the Right Rug Size for Any Room?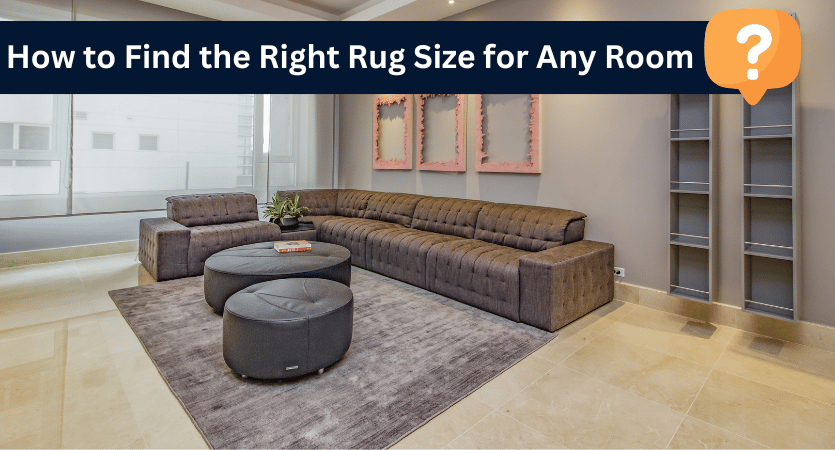 Did you just decide to buy a rug for your 12X13 room or other space? If so, you must know what to look for when buying the right rug size for your room.
Measure the Room:
First, you must measure the dimensions of the room. Moreover, you need to consider the layout of furniture to determine the size of the rug you need.
As you check the dimensions, ensure you have accurate measurements before making a purchase.
Define the Furniture Grouping:
Determine which furniture pieces you want to include on the rug. For example, in a living room, you may want the rug to accommodate the coffee table and all seating furniture.
Leave Adequate Space:
You should also leave a border of 18-24 inches between the rug and the walls. It will create an aesthetically pleasing frame for the room. The border defines the space and prevents the room from feeling cramped.
Consider Traffic Flow:
If the rug will be placed in a high-traffic area, ensure that there is enough room for people to move comfortably around it. Avoid obstructing doorways or impeding the flow of movement within the room.
Layering Options:
If you have a smaller rug that you love, consider layering it on top of a larger neutral rug to create a visually interesting and dynamic effect. This allows you to incorporate a smaller rug without sacrificing the appropriate scale for the room.
Frequently Asked Questions:
Can I use a smaller rug in a larger room?
While it is possible to use a smaller rug in a larger room, it may not achieve the desired aesthetic. A smaller rug can make the room feel unbalanced and disjointed. It is generally recommended to choose a rug size that complements the scale of the room.
Can I place furniture partially off the rug?
Yes, you can place furniture partially off the rug. However, it is essential to maintain a sense of proportion and balance. For instance, in a living room, the front legs of the sofa and chairs should ideally be on the rug, creating a cohesive arrangement.
How do I clean and maintain a rug?
The cleaning and maintenance of a rug depend on the material. Regular vacuuming, spot cleaning, and professional cleaning, if necessary, can help prolong the rug's lifespan. Follow the manufacturer's instructions for specific care guidelines.
Conclusion:
A 9×12 rug is typically a suitable choice for a 12×13 room. However, you must consider the specific requirements of the room, the furniture layout, and personal preferences.
As you follow the guidelines provided in this article and understand the standard rug sizes for various room dimensions, you can find the ideal rug size for any space. Nonetheless, you must also know the ways to maintain the rug so that it looks good for an extended period.