Are you looking to add some ambiance and charm to your aluminum gazebo? If so, consider hanging string lights on your aluminum gazebo. It will create a cozy atmosphere and provide functional lighting for evening gatherings. As a result, your gazebo will enjoy both ambiance and improved functionality.
But you may wonder, "How to hang string lights on aluminum gazebo? Also, what type of string light to choose for your gazebo? And what are its decorative ideas?"
You may use LED or incandescent string lights for the gazebo and outdoor patio space. The key is to choose the right lighting accent to complement the look of your outdoor party space. Also, you can hang the string bulbs with hooks and strings in different patterns for a unique look.
How To Hang String Lights On Aluminum Gazebo:
Nothing beats the effectiveness of string lights when adding charm to any space. With various sizes, shapes and lighting color accents, they can transform any space into heavenly. You can then use that outdoor space with gazebo lighting for parties, fine dining, etc.
It's also crucial because LED Magazine reports that outdoor gazebo and patio lighting can reduce crimes by 39%. So, it will protect your garden, yard and even stop trespassing.
What you'll need
Before you start hanging string lights on your aluminum gazebo, gather the right string lights and other materials to tie and hang them together. Once you have arranged the bulbs and hanging materials for it, the task becomes a brisk one.
First and foremost, ensure you have the appropriate lighting for your needs. Whether it's LED or incandescent bulbs, be sure to choose the right type of light that suits your style. We recommend you choose the LED S14 string bulbs since they have more than 30000 hours of lifespan. So, you will find them perfect for outdoor uses.
Next up, you have to collect the hardware. You'll need some hooks and clips to attach the lights securely onto your gazebo without causing any damage. Also, choose rust-resistant materials if you plan to leave them outside all year round.
Once you have these items in hand, consider purchasing an outdoor extension cord rated for outdoor use. It will ensure that there is no danger of electrical shock or other hazards while using the lights outdoors. The power cord length should be enough to connect the string lights to the power source in your gazebo space.
Lastly, you should grab a friend or family member who can help with installation and take safety precautions seriously when working with electricity and heights. With these simple items, let's move forward to our step-by-step guide!
Step 1: Switch off the power source
The installation process of the string lights on a metal aluminum gazebo is relatively easy. But before you start hanging string lights on your aluminum gazebo, switch off the power source from the main line. It ensures that you remain safe from unwanted electric shocks.
Step 2: Determine how many string lights you need
Next, measure the length of your gazebo. It helps you to determine how many strings of lights you will need. We recommend using 4 to 6 small string bulbs for each 1-foot distance of the pavilion. It will give the space a perfect ascent.
Also, be sure to take note of where your power source is located and plan accordingly. Check the distance between the power outlet and the string lights to determine the cord length. It is particularly crucial if you want to hang the string lights on the gazebo roof cap too.
Step 3: Attaching the hook
Now, it's time to attach a cup hook or eye bolt at each point. It should be where you want to hang your string lights. Be sure that they are securely fastened and evenly spaced out. You can use glue to secure the eye bolt or cup hooks with the gazebo support.
Step 4: Hanging the lights
Once you have fastened the hooks, you can start hanging the lights! Start by attaching one end of the first string of the light onto one of the hooks or bolts. You should carefully drape it across to another hook and secure it.
After that, consider moving on to connecting additional strings as needed. Follow the same process to attach all the strands from end-to-end around your gazebo safely. After that, you can plug them into an electrical outlet and turn them on!
You would love the wonderful string light accents for sure. Also, ensure the cord and wiring are safe from weather and external elements, if you have an open style gazebo.
Here are a few key tips: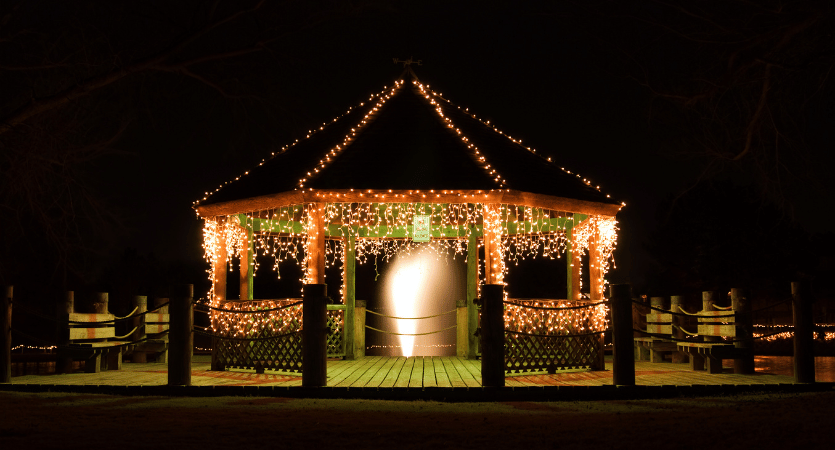 When you install the string lights, safety is essential. Also, proper installation hardware will ensure better security and longevity of the string lights and aluminum gazebo.
If using LED bulbs, be aware that they may require special clips for proper installation.
Consider using zip ties or twist ties instead of cup hooks if they seem more appropriate.
Always make sure cords are not twisted or tangled when installing.
Following these simple steps, you can create a beautiful ambiance under your aluminum gazebo with perfectly hung string lights!
Tips for troubleshooting
If you're having trouble hanging string lights on your aluminum gazebo, don't worry! A few tips and tricks can help you troubleshoot the issue.
First, check your hardware. Make sure all screws and bolts are tight and secure. If they're loose, it could cause the lights to sag or fall off completely.
Next, consider the weight of your string lights. They may not stay up properly if they're too heavy for your gazebo. Try using lighter-weight bulbs or reducing the number of strands you hang.
Another common issue is the uneven spacing between light bulbs. This can be fixed by measuring out equal distances before hanging each strand.
If your lights still don't stay up, try using additional support, such as zip ties or rope, to anchor them in place.
Make sure you've followed all safety guidelines when installing outdoor lighting. Always use weather-resistant materials and avoid overloading electrical outlets to prevent any accidents.
You'll easily enjoy beautiful string lights on your aluminum gazebo as you follow these troubleshooting ideas.
Frequently Asked Questions
Can I hang string lights on any aluminum gazebo?
Yes, you can hang string lights on any aluminum gazebo as long as it has a sturdy frame to support the weight of the lights.
Do I need special tools to install string lights on my gazebo?
No, you don't need special tools. You'll only need a ladder, measuring tape, zip ties or hooks, and your preferred type of string lights.
How many sets of string lights do I need for my gazebo?
It depends on the size of your gazebo and how you plan to arrange the lights. A good rule of thumb is one set per every 10 feet or so.
Do I have to take down my string lights after each use?
It's recommended to take down your string lights after each use if they're exposed to harsh weather conditions. It will help prolong their lifespan and prevent damage.
Can I leave my outdoor-rated LED bulbs up year-round?
Yes, outdoor-rated LED bulbs are designed to withstand different weather conditions throughout the year. It's still important to check them periodically for any signs of wear or damage. Proper installation is key when hanging string lights on an aluminum gazebo. Always follow safety guidelines and manufacturer instructions for the best results!
Conclusion:
Hanging string lights on an aluminum gazebo can be a fun and rewarding project that adds ambiance to your outdoor space. With the right tools, materials, and technique, you'll have a beautiful lighting display in no time. And for that, you can follow this guideline on how to hang string lights on aluminum gazebos.
Always remember to plan out your design beforehand and measure carefully to ensure the proper placement of the lights. It's also important to use sturdy hooks or clips designed for outdoor use, as well as high-quality string lights rated for outdoor conditions.
If you encounter any issues during the process, don't hesitate to troubleshoot and adjust as needed. And most importantly, have fun with it! Experiment with different patterns and designs until you find one that perfectly complements your style.