Anyone who has diabetes requires careful management and attention for their living. It includes from home environment to proper lifestyle following. Naturally, people, especially those with diabetes, ask, "Can you set up a home for diabetic people? Also, what are the ideas for setting up a proper home for diabetic people to enjoy excellent well-being?
The good news is you can indeed set up a home space perfectly to cope with your diabetes. A diabetic-friendly home should have space to promote healthy habits and minimize risks. Plus, the home space should support overall well-being.
You can consider kitchen and bathroom setups, safety and easy accessibility at different corners of your home and even space and equipment for physical exercises. All these would help you combat diabetes and enjoy a better lifestyle.
Can You Setup A Home For Diabetic People
Setting up a home space is possible, particularly for people with diabetes. The key is to make the home ambience safe and easily accessible and provide ample room for walking and physical exercises. It is vital since diabetic people cannot go to hard-to-reach spaces. So, you must arrange all possible things with easy accessibility.
Kitchen Considerations:
The kitchen is the heart of any home and plays a crucial role in managing diabetes. So, you should have proper storage areas for diabetes management supplies. It can include storage space for blood glucose monitors, test strips, insulin, and medication.
The right storage space for insulin, such as Ozempic from Canada Pharmacy, will allow diabetic people to find it quickly during emergencies.  
Also, you should opt for a well-organized pantry with clearly labeled containers for staples. It includes labels for whole grains, legumes, and low-sugar snacks. Also, prioritize fresh produce items with a designated space for fruits and vegetables.
Next, you should incorporate ergonomic designs like lower countertops and easy-to-reach storage. It will facilitate easy meal preparation and reduce strain on joints. Lastly, use slow cookers or air fryers for healthy cooking alternatives.
Safety and Accessibility:
If someone in your family has diabetes, you must ensure a safe and accessible environment for them. It is crucial, especially if they experience physical complications. Often these are related to neuropathy or vision impairments.
Choose slip-resistant flooring materials to minimize the risk of falls. We recommend using smooth and easy-to-clean surfaces, such as vinyl or linoleum.
You should also install bright and well-distributed lighting throughout the home. For this, pay attention to areas with shadows or low visibility.
You may even incorporate motion-activated lights for added convenience and safety.
You can include sturdy handrails and grab bars in areas where balance and support are needed. These can be in the staircases, bathrooms, and hallways.
Exercise and Physical Activity: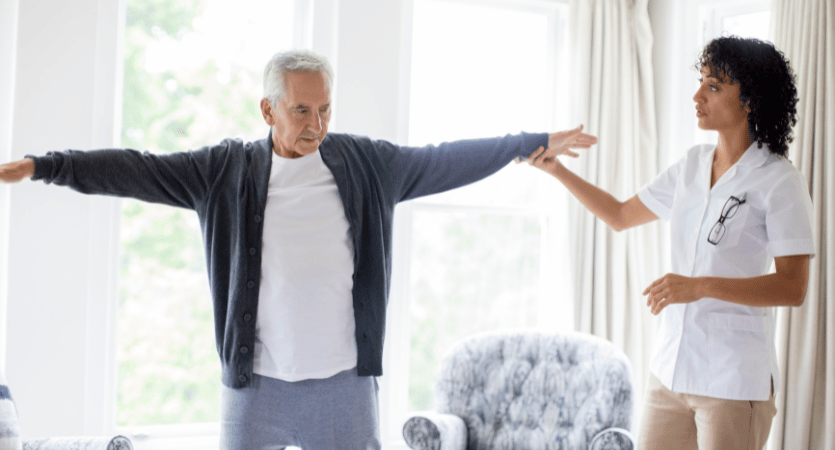 Regular physical activity is essential for diabetes management. Therefore, you must arrange the home space so that people with diabetics can exercise there freely and without hassles. So, you must have proper workout space. You can dedicate an area for exercise equipment such as treadmills, stationary bikes, or yoga mats. Also, ensure good ventilation and adequate storage for equipment.
Next, you should consider the outdoor space too. Create an outdoor area with comfortable seating and a suitable surface for activities like walking or gardening. You may even plant herbs and vegetables for a homegrown, diabetes-friendly food source.
Sleep and Stress Management:
Quality sleep and stress reduction are vital for managing diabetes. So, when you set up a home for diabetes, you must ensure that it allows people with diabetes to sleep peacefully. And for this, the bedroom design needs to be perfect.
You can choose blackout curtains or blinds to create a dark and calming sleep environment. Also, you can invest in a comfortable mattress and pillows to support proper spinal alignment. You should also dedicate a quiet space for relaxation, meditation, or mindfulness activities. You can, thus, include soft lighting, comfortable seating, and calming décor.
Technology Integration:
You can leverage smart home technology to simplify diabetes management. Also, proper home technology will enhance safety for diabetic people. For instance, you can include Continuous Glucose Monitoring (CGM) to monitor your glucose level hassle-free. 
You can integrate CGM systems with smart home platforms. it helps you receive real-time glucose readings and alerts on mobile devices or voice-activated assistants. On top of it, you may choose medication reminders.
Moreover, you might utilize smart pill dispensers or smartphone apps to send reminders for medication schedules. It will ensure timely and accurate doses for diabetic people, which is crucial. Lastly, you can consider automated lighting, temperature control, and security systems.
All these features with better home technology will ensure added convenience and peace of mind.
Conclusion:
You can design a diabetic-friendly home with thoughtful consideration of various aspects. The key is considering the kitchen and bathroom setup, safety features and exercise facilities. Next, ensure proper sleep with the right light and ventilation so diabetic people enjoy better sleep.
Finally, integrate technology and home automation features to improve the diabetic monitoring and safety of diabetic people. Always provide a cleaner and hygienic home space since dirtiness can harm diabetic people.