Our pets are not just animals; they're cherished members of our families. We always want to make the pets happy, feel safe and special. Thus, it is crucial to have a pet-friendly home to ensure safety, comfort, and happiness for them.
And for this, you must know pet friendly home ideas and tips. It includes choosing the right flooring, providing a secure outdoor space, ensuring a proper feeding environment, etc. If you find it hard to make your home a heaven for your favorite pet, continue reading our tips on it. 
Top Five Pet Friendly Home Ideas and Tips
If you have pets at home, ensure that the space is safe for your family members and pets. Or else the pet might likely scratch and damage the property. Also, inappropriate design of the home may hurt the pet.
Choose Pet Friendly Flooring: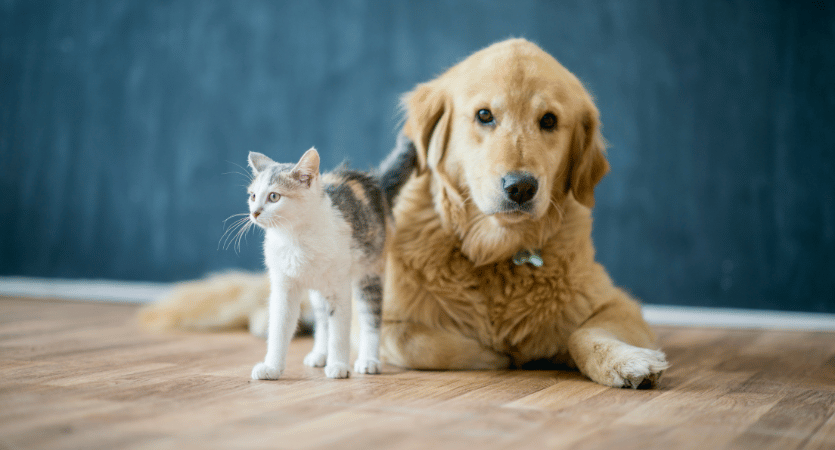 Pets can be tough on floors, causing scratches and stains. Also, slippery floors may cause the pets to slip and get hurt, and it's the last thing you would want to see. So, consider the type of floor you have to ensure it is pet-safe and friendly. You may opt for flooring materials that are durable and easy to clean. 
Laminate Flooring: Laminate flooring is a cost-effective choice that resists scratches and is easy to clean. It mimics the look of hardwood floors without the vulnerability to pet claws.
Luxury Vinyl Flooring: Luxury vinyl flooring is not only durable but also water-resistant, making it an excellent choice for homes with pets. It comes in various styles and colors to suit your décor.
Tile Flooring: Tile is another pet-friendly option, as it is highly resistant to scratches and stains. Choose tiles with a textured finish for better traction.
Regardless of your choice, keep your pet's nails trimmed to reduce the risk of scratching.
Create a Designated Pet Space:
Pets thrive when they have a designated area in your home where they can relax, play, and feel secure. The space will offer the pets a nice ambiance for their food, snuggling time, and whatnot!
You can begin with a dedicated area for their food and water bowls. It helps establish a routine and keeps their feeding area clean.
If you have dogs, place a feeding bowl for the dog food at the corner of the balcony with a water bowl. So, the dog will get both food and water at the same place. And for cats, you can just give them food anywhere, as they don't mind it at all.
You should also provide a comfortable bed or crate for your pet. It is crucial for them to retreat when they need their own space. Lastly, keep a selection of toys, blankets, and accessories in their designated area to keep them entertained and comfortable.
Invest in Pet-Friendly Furniture: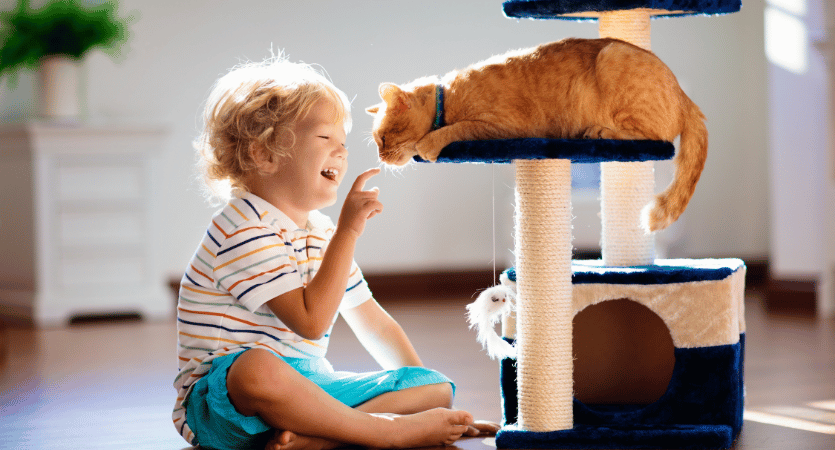 Pets love to snuggle on the couch or bed. Hence, it's essential that your furniture can withstand their presence. You may look for furniture made of materials that are resistant to pet hair and stains.
For instance, you can choose high-quality leather furniture. Leather is an excellent choice for pet owners because it's easy to clean, and pet hair doesn't cling to it. It's also less likely to trap odors.
Microfiber upholstery is durable and resistant to stains. It's a comfortable option for both pets and humans. Also, you should consider using furniture covers or throws to protect your furniture from pet hair, scratches, and accidents.
Secure Your Outdoor Space:
If you have a backyard or outdoor space, it's essential to ensure it's safe and enjoyable for your pets. To begin with, install a secure fence. It should be tall enough, ideally 4 to 6 feet, to prevent pets from escaping.
Next, you should choose pet-friendly plants and landscaping materials. Avoid toxic plants, and consider creating a designated area for your pet to play and relieve themselves.
On top of it, ensure shaded areas and shelter from the elements to keep your pet comfortable in all weather conditions.
Safety First:
Ensuring your home is safe for your pets is paramount. For this, always use childproof locks on cabinets containing cleaning supplies, chemicals, or other hazardous materials that could harm your pet. You must also keep electrical cords out of reach. It is vital to prevent pets from chewing on them, which can be dangerous.
Invest in trash cans with secure lids or store them in cabinets. It will protect the pets from rummaging through them and ingesting harmful substances.
Conclusion:
A pet-friendly home is a rewarding endeavor for your pet animals. It will enhance the well-being of the beloved furry companions. The key is to invest in pet-friendly floors and furniture. Also, ensure that the home space is both functional and well-designed for both the human and the pet.
Always remember, a pet-friendly home is a happy home for you, your family members, and your four-legged friends. They bring endless happiness to all, so investing to make the home safe and friendly for them is more worthwhile than you imagine.