Termites in the bathroom are the last scene you would wish to see. Although termites have no high-end health risks, their presence is not welcomed. With termites and their droppings everywhere, your bathroom can soon turn into a hellish nightmare. And that's why you should treat termites ASAP in the bathroom.
So, how to treat termites in the bathroom? For smaller infestations, you may use boric acid, cayenne pepper, and essential orange oil. And for larger termite attacks, you may opt for chemical solutions. But you must also understand how termites enter your bathroom to prevent their infestation.
So, let's check these methods to treat termites, prevent their infestation, and find ways to identify them.
What Attracts Termites to the Bathroom?
Have you ever noticed the presence of small, white-bodied insects in your bathroom? If so, you may have termites on your hands. Yes, it may seem strange to see these wood-eating bugs in your bathroom. However, certain conditions make your bathroom hospitable to these uninvited visitors.
The most common cause of a termite infestation is damp and unused wood. It can be either in the form of framing or furring strips within the walls. Also, there can be a nearby pile of firewood outside right beside your bathroom. Termites love damp wood. And from there, they will create underground tunnels directly into your bathroom.
Other potential attractions are cracks and crevices where they can access moisture and humidity. Plus, an abundance of accessible food sources attracts termites too. These food sources include human hair, fingernails, soap scum, and other natural debris.
Detecting Signs of Termite Infestation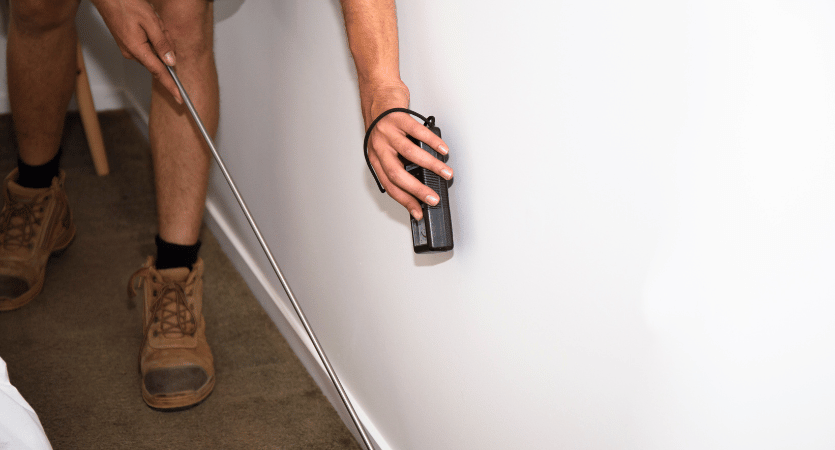 You can identify termite attacks by noticing the physical evidence of their presence on walls or floorboards. Or you may hear them munching away on wood. You may also see sawdust-like debris near cracks in wooden structures. These are caused by termites feeding on nearby wood structures.
While domicile fungus are easy to identify, termites can be hard to find. It happens because of their tiny size. So, It's essential to pinpoint where the infestation is occurring. Only then can you give it adequate attention? And the easiest way is to know the physical appearance of the termites. It includes:
Body with a Cream-color
3-4 mm long
Mud foraging tube
These physical appearances are true for termite workers. And for the termite swarmer, you can seek the following physical properties:
Body with dark brown to black color
Approximately 4 mm long
Translucent and veiny wings
Besides their physical appearance, you could see termite droppings in the bathroom too. It is known as frass and is a sure sign that your bathroom may have an infestation. Termite droppings look like oval-shaped grey capsules, so they would be easy to find.
Other signs of termite attacks in baa room may be:
Loose tiles in your bathroom floor or wall
Piles of mud tubes on your bathroom wall
The paint is coming out that appears like water-damage
Pipes will have leaks and penetrations
How To Treat Termites In Bathroom:
Since you came up, you must be dealing with annoying termites in the bathroom. Thankfully, there are multiple treatment options to eliminate these pesky nuisances. Before you start, it's crucial to identify the type of termite infestation your bathroom has. Also, you should determine if it's localized or widespread.
Nonetheless, the following treatments work on most termite types. So, let's dive into these treatment options.
Method 1: Chemical Treatments
The most common method used to treat termites is chemical treatment. It involves applying an insecticide to the affected area. Also, you treat any exposed wall or pipe with a termiticide spray or soil drench.
For localized infestations, you should use non-repellent insecticides. These offer better protection for long-term control of termites. Nonetheless, chemical treatment for termites in the bathroom isn't ideal, making it unusable for two to three days. So, be aware of this inconvenience before applying insecticide to kill termites in the bathroom.
Method 2: Heat Treatment
For small areas, heat treatment is a good option. It is a non-chemical method of termite control in your bathroom. So, you don't need to wait to use the bathroom either.
You need to increase the temperatures to 130-140 degrees Fahrenheit near the termites. Also, maintain the temperature for at least four hours to kill off termites effectively. You may use incandescent bulbs or a smaller heater for this purpose.
Heat treatments are beneficial when dealing with smaller areas. It is cheaper than chemical treatments and doesn't require extensive prep or cleanup afterward. So, it fits perfectly when you need to eliminate termites immediately and use the bathroom without any delays.
Method 3: Boric Acid
Boric acid is another non-chemical method of treating termites. It's effective on wood that dry wood termites have directly attacked. You can directly spray the boric acid onto the affected surfaces inside the bathroom.
Remember, though, that this treatment must be reapplied every few months. It is essential to effectively get rid of those pesky bugs!
Method 4: Use essential orange oil
The use of essential orange oil will help treat a small termite infestation. First, add a few drops of essential oil to a bottle full of normal water. Then, spray it over the termite-affected space. You need to continue spraying the essential oil mixture for a few days.
It works well on cracks, deep walls, and pipes you can't usually reach. Also, you can spray the termite killer directly on the bugs.
Method 5: Use cayenne pepper oil
Sprinkling cayenne pepper oil is one of the most effective methods to deal with termites. You can sprinkle it on the bathroom floor, inside and outside the pipes, drain, sink, and mud tubes. Cayenne pepper contains an active capsaicin compound.
This chemical compound will kill the termites in no time. So, your bathroom will be free from their colonies soon.
DIY Termite Control Tips and Tricks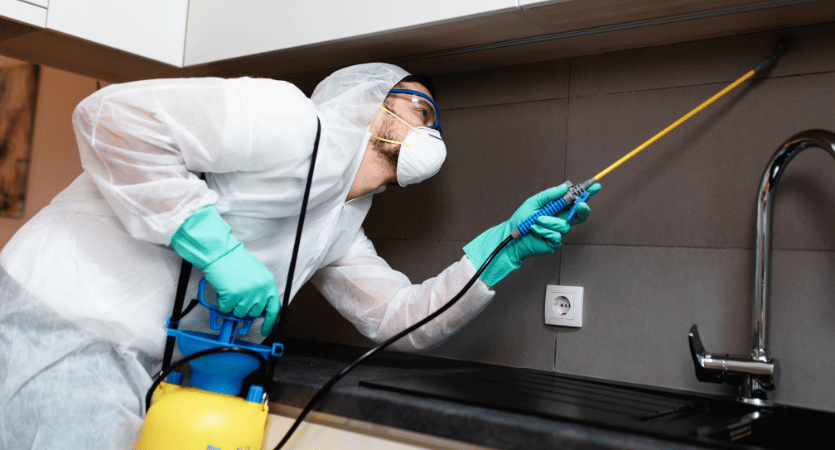 Termite treatment can be tricky, and DIY treatments can be risky business. Hence, you should prevent them instead of just eliminating the bugs.
Find and block their entry points
First, you need to find out where the termites are getting in. You might find mud tubes or small holes in walls or floors. If so, treat those entry points with a termiticide or boric acid powder. It keeps termites from entering your bathroom again.
Also, it would help if you did not keep damp wood nearby your bathroom. Termites are attracted to moisture naturally. Thus, you should take wet items only a little bit in the bathroom.
Use traps
You can also set up sticky traps around your bathroom. Afterward, monitor them regularly to detect and kill any termite activity. You can use lights or a sticky item for it. The easiest way is to keep sugary water in a bowl and attract the termites.
If you catch any termites in the traps, you can tell where they're coming from. This way, if necessary, you can target that area with a more robust treatment.
Ensure proper ventilation and hygiene in your bathroom:
Last but not least, ensure your bathroom is dry and well-ventilated. Proper ventilation not only keeps termites and fungus away, it eliminates chlorine too.
Termites usually live in wet and unclean spaces. So, keeping the bathroom floor drier and cleaner will naturally stop termites from entering your bathroom. For this, ensure that airflow is optimal inside the bathroom. Plus, you should look for any clogs and damages in the drain pipes and faucets. If there's any leak or clog, fix it soon. It keeps the bathroom hygienic and termites don't like it.
Can Gunk Around Toilet Base Attract Termite?
No, gunk around the toilet base is unlikely to attract termites. Termites are primarily attracted to cellulose-based materials, such as wood and paper. Th cellulose serves as their food source. However, gunk around the toilet base typically consists of dirt, dust, and organic matter. Since, it doesn't contain cellulose, it won't provide a direct food source for termites.
Termites are more likely to be attracted to damp, decaying wood or areas with high moisture content. They are drawn to the cellulose within the wood rather than the presence of dirt or debris. As you see, toilet gunk may sometime become damp and so, occasionally it will attract the termites. Nonetheless, you will rarely find termites in the toilet gunk but it doesn't mean that gunk in toilet base is safe.
To minimize the risk of attracting termites, it's important to maintain good hygiene and cleanliness in your home. It includes regular cleaning of the toilet area to wipe out the gunk. Also, you must address any moisture issues or water leaks that could create a conducive environment for termites, particularly, around the toilet base.
If you suspect a termite infestation in your home, it's best to first find their food sources. As you find their food sources, you will more likely to locate their colonies soon. Only then, you can wipe out the termites permanently from your bathroom. Of course, it requires regular inspection and cleaning of the toilet base too so that it doesn't become damp-enough to provoke termites to live on the unhygienic and untidy gunk.
Conclusion
You can choose homemade or commercial solutions depending on the termite infestation level. No doubt, homemade termite control, and solution work better in the bathroom. It doesn't have any health risks and keeps the bathroom usable immediately.
Nonetheless, applying chemical solutions or insecticides is your last option for larger infestations. And if nothing works, you should seek a termite-control professional.