Have you ever noticed the unsightly buildup of gunk around your toilet base? The gunk is not only an eyesore, but it can also be a breeding ground for bacteria and unpleasant odors. Naturally, you would like to get rid of the gunk. Also, you may look for ways to prevent gunk around toilet base.
So, why do gunk build-up around the toilet base is your first concern. Secondly, you must know how to prevent gunk around the toilet base. Also, how bad is the gunk in and around the toilet base?
Gunk develops around the toilet base due to excessive moisture and wetness on the base. Also, not cleaning the toilet base for around a long time will cause gunk development. Often, the footwear you use in the toilet and your feet carry debris that sticks to the toilet base to make it dirty. So, you must clean the toilet base to prevent gunk development.
Now, let's dive deep into the reasons, maintenance and prevention tips of gunk so you can keep your toilet in perfect condition.
What Is Gunk Around The Toilet Base?
The gunk around the toilet base is a common problem that many homeowners encounter. It can take on various forms, such as black mold, mildew, or mineral buildup. The unsightly residue builds up over time and can be challenging to remove.
One of the main culprits of gunk is moisture. Often, there's excess water in your bathroom due to poor ventilation or leaks. Thus, it can create an environment that encourages the growth of bacteria and mold. Additionally, hard water with high mineral content can cause buildup around your toilet base.
Of course, it may seem like a minor annoyance at first glance. Sadly, ignoring the gunk around your toilet base could lead to more significant problems down the line. The accumulation of bacteria and mold could result in unpleasant odors or even damage to your flooring if left untreated for too long.
Types of gunk around toilet base:
From a health perspective, the presence of gunk around the toilet base can be a cause for concern. Also, you will see the following gunk and stains on the toilet base:
Regular gunk
Brown or green stain
Orange stain
Regular gunk,
It is typically made up of dirt, dust, and other debris. Thus, regular gunk may not be harmful to your health. However, it could indicate poor cleaning habits or inadequate hygiene practices. Also, it can develop due to debris you carry in your feet.
Brown and green stains:
Brown or green stains around the base of the toilet may be caused by mold, mildew, or bacteria buildup. These types of stains can be unsightly and may emit an unpleasant odor. Plus, the exposure to mold and bacteria can lead to respiratory problems and other health issues.
It happens for individuals with weak immune systems. Yuseok Moon in his research on Mold, Mycotoxins and a Immune System found that it can be hazardous for people with asthma, and other respiratory diseases.
Orange stains:
Orange stains around the base of the toilet are often caused by hard water deposits or rust. These stains may not pose an immediate health risk. However, they can be difficult to remove. Also, it may indicate underlying plumbing issues that should be addressed to prevent further damage.
The US Geological Survey reports that 85% of America suffers from hardness in supply water. So, it can stick on the floor and react to turn into orange stains.
Why Do Gunk Develop Around Toilet Base?
There are a few reasons that can contribute to the buildup of gunk around your toilet base. So, it's best to inspect the bathroom and toilet base to find what is causing the gunk development in the base. It can include inappropriate cleaning, water leaks, use of harsh chemicals, etc.
Not cleaning the base timely:
One of the most common causes is improper cleaning techniques or infrequent cleaning. When you don't clean your toilet regularly, dirt and grime can accumulate around the base of the toilet, which eventually turns into gunk.
Water leaks:
Another reason for gunk buildup may be due to water leaks from faulty bathroom plumbing connections or worn-out wax rings. If there's even a small leak present, it can lead to excess moisture accumulation near the base of your toilet bowl over time.
It creates an ideal environment for bacteria growth. So, it will eventually lead to unsightly blackish-brown stains. You should waterproof the bathroom walls to avoid such water leaks.
Use of harsh chemicals and hard water:
Sometimes you may use certain harsh chemicals in excessive amounts during routine cleaning. It also contributes to this issue by damaging both porcelain and pipes alike. So, they can be more susceptible to dirt buildup.
Also, hard water might react with the harsh chemicals to cause gunk build-up.
Poor ventilation:
Poor ventilation in your bathroom could cause increased humidity levels leading up towards condensation forming on surfaces including around the bottom of toilets creating a breeding ground for mold and other harmful microorganisms.
How To Prevent Gunk Around Toilet Base?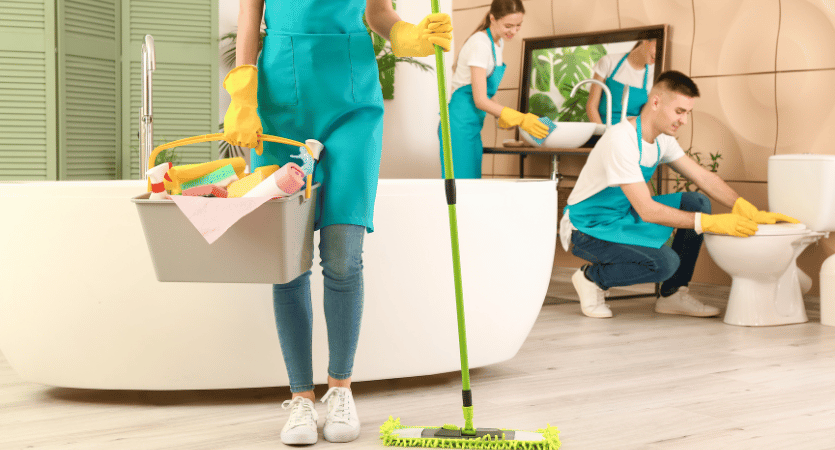 Preventing gunk around the toilet base is important to maintain a clean and hygienic bathroom. There are a few things you can do to prevent it from happening.
Firstly, make sure that the toilet bowl and surrounding areas are cleaned regularly with an effective cleaner. This will help remove any build-up before it becomes more difficult to remove.
Secondly, be mindful of what you flush down the toilet as this can contribute to gunk buildup. Avoid flushing anything other than human waste and toilet paper as other materials can cause blockages in your pipes, leading to dirty water backup.
Thirdly, ensure that there is proper ventilation in your bathroom. Humidity and moisture can lead to bacterial growth which contributes to gunk formation around the base of your toilet.
Consider investing in a good-quality wax ring during installation or replacement of your toilet. A quality seal between the floor and the base of the toilet will prevent leaks that could lead to unwanted buildup over time.
By following these simple steps on how to prevent gunk around the toilet base, you'll keep your bathroom cleaner for longer periods without having any unpleasant surprises!
How To Clean Gunk Around Toilet Base?
Cleaning the gunk around the toilet base can be a daunting task, but it is essential to maintain good hygiene in your bathroom. Here are some effective ways to clean the gunk.
Method 1: Apply hot water and cleaning agent
You should wear gloves and protective eyewear before you start cleaning. Next, use hot water and soap or a cleaning agent with bleach to scrub the area thoroughly. Use an old toothbrush or a scrub brush for hard-to-reach areas like corners and edges.
If you suspect the gunk development due to hard water, avoid using hot water. It may react with the gunk to cause it to become stubborn.
Method 2: Use baking soda and vinegar
If there is still stubborn residue left on the surface after scrubbing, try using baking soda mixed with vinegar or lemon juice as an alternative cleaning solution. Leave this mixture for 10-15 minutes before rinsing off with hot water.
The mixture of baking soda and vinegar is a safe and effective way to remove gunk. It will help loosen and remove any buildup without the need for a sharp knife or other potentially damaging tool.
Method 3: Commercial cleaning agent
For tough stains that won't budge easily, consider using commercial cleaners specifically designed for removing toilet bowl stains. However, always follow the instructions carefully when using these products.
Once done with cleaning, dry off the area completely using paper towels or cloth rags to prevent moisture buildup which may lead to mold growth under your toilet's base over time.
Regularly maintaining cleanliness around toilet bases will keep your bathroom free of germs and unpleasant odors. It will also prevent health problems caused by bacteria buildup in damp conditions!
How to Remove Orange And Brown Stain From Toilet Base?
To remove brown stains from the toilet base, here are some steps you can follow:
Turn off the water supply to the toilet and drain the bowl by flushing it a few times.
Mix equal parts of baking soda and white vinegar to make a paste.
Apply the paste to the stained areas on the toilet base, using a brush or sponge.
Let the paste sit for 15-20 minutes.
Scrub the stained areas with a brush or sponge.
Rinse the toilet base thoroughly with water.
If the stains persist, you can try using a commercial toilet bowl cleaner that contains hydrochloric acid. Be sure to follow the manufacturer's instructions carefully and wear gloves and eye protection.
Frequently Asked Questions
Will using bleach help prevent gunk buildup around the toilet base?
Bleach can be a useful tool in cleaning and disinfecting your toilet, but it won't necessarily prevent gunk buildup. The best way to prevent this is through regular cleaning and maintenance.
Can I use a wire brush to clean the gunk around my toilet base?
While a wire brush may seem like an effective tool for removing tough stains and buildup, it can actually scratch and damage the surface of your toilet. Instead, opt for a non-abrasive cleaner and soft-bristled brush.
Why does gunk build up around my toilet base even though I clean regularly?
There are several reasons why this may occur, such as water leaks or condensation from temperature changes. It's important to identify the root cause of the issue in order to effectively prevent future buildup.
Is there anything else I can do to prevent gunk around my toilet base besides cleaning regularly?
Yes! Consider installing a wax ring or flange seal between your toilet bowl and floor. It will create a stronger seal that helps keep water from seeping underneath your toilet and causing unwanted buildup.
Conclusion:
Gunk around the toilet base can be a frustrating and unsightly problem. However, by understanding the reasons behind it and taking preventative measures, you can significantly reduce or even eliminate this issue in your bathroom.
Regular cleaning with appropriate products is essential to maintain a clean and healthy bathroom environment. Additionally, ensuring proper installation of your toilet and addressing any leaks promptly will go a long way towards preventing gunk buildup around the base.