Are you looking for ways to freshen up your kitchen and add a touch of style? Do you find the kitchen space rather boring? If so, you can plant to paint the space above the kitchen cabinet. Indeed, whether you want to add a pop of color or create a cohesive look, painting above kitchen cabinets can make a significant difference.
However, you may need clarification about how to paint above kitchen cabinets. It is a concerning question since you must reach the space safely. Also, you should prepare the space above the kitchen cabinet to paint it without damaging it.
Also, it's crucial to find the right painting for the space so that it looks pleasing. Next, you must choose between a paint sprayer and roller for the space above the kitchen cabinet. Do you find all these hard to remember? Our article will help you with step-by-step guidelines on painting spaces above the kitchen cabinet.
How To Paint Above Kitchen Cabinets:
Kitchen cabinets are one of the most used spaces in your entire home. However, we often need to pay more attention to the appearance of the space above it. But what about giving the above kitchen cabinet space a touch of elegance and pop-up?
Step 1: Reach Above the Kitchen Cabinet
Reaching out can be challenging when you plan to paint the kitchen cabinet above the space. So, you need to find a way to reach the space above your kitchen cabinets. Also, while reaching the place, you must maintain safety.
You may use a ladder, step stool, or extension pole to reach the place. If the kitchen cabinet is sturdy enough, you may stand on it to paint the wall around and above it.
Use a ladder: A sturdy ladder with multiple steps can safely reach higher areas. Also, you should ensure that the ladder is stable. Plus, position it securely before climbing.
Step stool: A step stool may be sufficient if the height is relatively low. Make sure it is stable and has a non-slip surface to prevent accidents. Or else, you can call someone to hold the step stool firmly.
Extension pole: You may use an extension pole for those hard-to-reach areas. You can attach it to a paint roller or brush to reach the spot. It will save you from climbing or reaching too far. It provides more control and stability during the painting process.
Step 2: Prepare the Painting Area
Proper preparation is key to achieving a professional-looking finish for painting the kitchen spot above the cabinet. Also, it is crucial because there can be dust on the spot that will prevent the paint adhesive from sticking to the surface. Most people won't clean the space once they install the kitchen cabinet. So, it looks dull. 
On top of it, you should cover the cabinet to protect it from falling paint. Next, masking the edges will allow you to create a more professional painting finish.
You should start by thoroughly cleaning the surfaces you intend to paint. So, remove any grease, grime, or dust with a mild detergent and water solution. Allow the area to dry completely before you proceed to the next step.
The space will need 5 to 10 minutes to dry after cleaning it. Then, you may use a soft cloth or duster to remove any remaining dust or debris from the surfaces. It will ensure a clean canvas for the paint, so it sticks firmly and looks amazing.
Before you paint, you must also protect the cabinet surfaces beneath your painting area. You should, thus, cover it with plastic sheeting or drop cloths. It prevents accidental splatters or spills from damaging the cabinets.
Finally, you need to apply masking tape. For this, carefully apply masking tape along the edges of the cabinets. It will create clean, defined lines. Also, it benefits a professional finish and avoids accidental paint smudges.
Step 3: Finding the Right Paint Color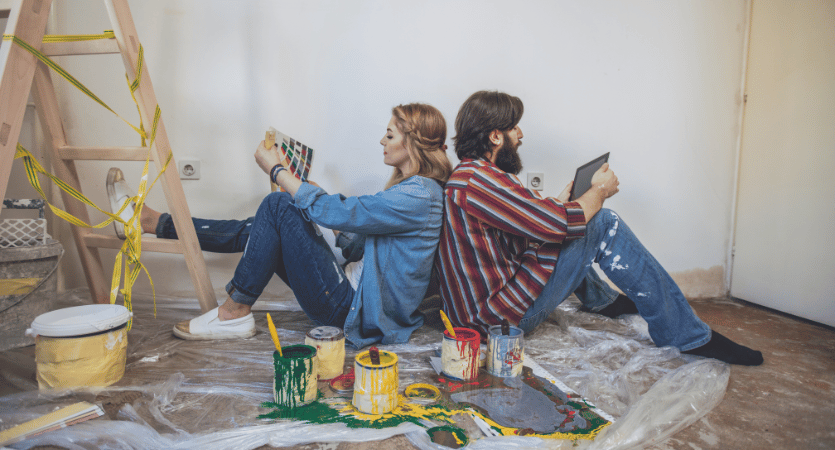 You must also choose the right paint color for the kitchen space above the cabinet. It is crucial for achieving the desired look and feel in your kitchen. Consider the following tips when selecting paint for the space above your kitchen cabinets:
Match existing decor: First, you may consider the existing color scheme and decor in your kitchen. Decide whether you want the painted space to blend in seamlessly. Or do you want to make a bold statement? Also, matching colors gives a cohesive appearance to the kitchen. 
Complement or contrast: You can choose a paint color that complements or contrasts the color of your cabinets. For a cohesive look, opt for shades from the same color family. However, if you wish to improve the visual interest, consider contrasting colors.
Light and airy: Is your kitchen small or lacks natural light? If so, you can select lighter shades. It will create an illusion of space and brightness. Whites, creams, or pastels can be excellent choices for any kitchen space.
You should consider your kitchen ventilation, lighting, and arrangement to pick the right color for the spot above the kitchen cabinet. Also, you must consider your preference for choosing the paint finish.
Step 4: Apply the Paint Properly
You've already prepared the painting area and selected the right color at this stage. So, it's time to apply the paint. You can choose the brush and roller to apply the paint. Alternatively, you can use a professional paint sprayer.
Brush and roller:
The brush and roller painting method offers you more control over the surface. Also, the DIY paint method for the space above the kitchen cabinet is better. It reduces the risk of spraying the paint abruptly, which can make the finish look odd and unpleasant.
First, you should start with a brush or a small roller to paint the edges. Also, you must paint the corners of the space above the cabinets. Then, use a larger roller to fill in the larger areas evenly. Apply thin, even coats and allow sufficient drying time between each coat.
You must drip the roller on the paint and apply the first coating safely. Then, wait a couple of hours to let the first coating dry. After that, you can apply the second coating of the paint and then let it cure for 24 hours.
If you want a better finish, you should also prime the space. For priming, you may choose water-based or latex primers.
Paint sprayer:
If you have experience using a paint sprayer or prefer a more efficient method, you can use one to achieve a smooth, professional finish. Also, a sprayer will help you cover the space faster for a quick DIY kitchen paint.
You can hire a paint sprayer or buy it from the local hardware store. First, choose the right paint spraying nozzle, depending on the type of finish you want. For the ceilings and walls, you can choose a matte paint finish. Nonetheless, interior experts recommend a glossy finish for kitchen space. Hence, it's up to you to choose the right paint finish. 
Next up, you must clean the nozzle tip and nozzle for proper paint. Or else the paint may be coercive and unpleasant.
Top Five Painting Ideas for Above Kitchen Cabinet Space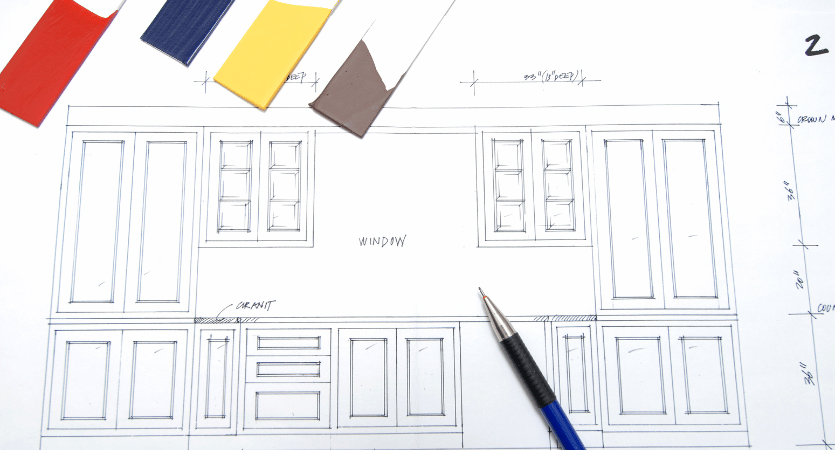 You can be genuinely creative when you paint the above kitchen cabinet space. It's time to unfold the Picasso in you and let the space light up with excellent color schemes. From accent color to metallic flair, you can find limitless color options to design the kitchen space.
Accent color: Choose a bold, contrasting color to make the space above your cabinets a focal point in your kitchen.
Neutral elegance: Use a soft, neutral shade to create an elegant, timeless look. It will complement your kitchen cabinets and overall kitchen design.
Chalkboard paint: You can transform the space into a functional and stylish area with conventional chalkboard paint. You can write notes, create grocery lists, or showcase inspiring quotes with chalkboard paint.
Metallic flair: Do you wish to add a touch of glamour to the cabinet space and above it? You can paint the area with metallic shades like gold, silver, or bronze. These options work particularly well in modern or industrial-style kitchens.
Wallpaper accent: Instead of paint, consider using removable wallpaper. It, too, can create an eye-catching accent above your kitchen cabinets. You may choose patterns or designs matching your kitchen theme for this.
As you see, you have the creative liberty to paint space above the kitchen cabinet. So, bring your imagination into reality and let the DIY painting idea progress.
Safety Tips for Painting Above Kitchen Cabinets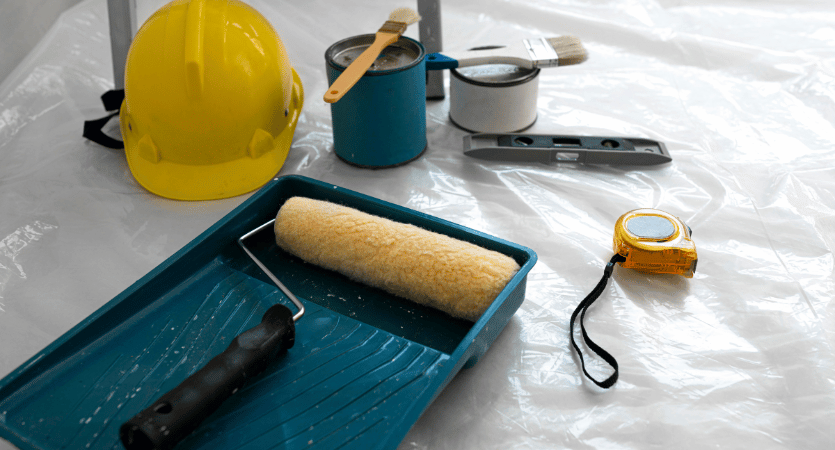 When painting above kitchen cabinets, prioritizing safety is essential. Otherwise, you may fall from the cabinet or damage the materials. And we understand these conditions are not desirable.
Ensure proper ventilation. So, you must open windows or use fans to reduce fumes. Spray paint must stop the VOC materials from entering your nostrils. Or else it can cause serious suffocation or even allergic symptoms. 
Also, you should wear protective clothing, including goggles, gloves, and a mask. It is paramount to protect yourself from paint splatters and fumes.
Use a stable, secure ladder or step stool to prevent falls or accidents.
Follow the manufacturer's instructions for the paint and tools you use.
Keep children and pets away from the working area to avoid accidents.
Frequently Asked Questions
Can you paint the space above your kitchen cabinets if they have crown molding?
Yes, you can still paint the space above your kitchen cabinets, even if they have crown molding. Use masking tape to protect the molding and ensure clean lines during painting.
How long should you wait before applying the second coat of paint?
The drying time between coats can vary depending on the type of paint you use. Refer to the paint manufacturer's instructions for specific drying times. Generally, wait at least two to four hours before applying the second coat.
Do you need to prime the surfaces before painting?
It's recommended to prime the surfaces before applying paint, especially if you change the color significantly or paint over a glossy surface. Primer helps the paint adhere better and ensures a more durable finish.
Conclusion
Painting above kitchen cabinet space will add elegance and functionality to your kitchen space. Also, you can be creative to pop up the space as you follow our guidelines on how to paint above kitchen cabinet space. From chalkboard painting to metallic finish, you can determine the right painting space for the space.