If you want to have the home of your dreams, you need to put in the effort. So, let's go over the essential home improvement steps for Canadian Homeowners.
Exterior upgrades to your home
When it comes to exterior upgrades for your home, one of the best home improvement steps is to enhance your garden. Enhancing your garden not only adds curb appeal to your property but also creates a welcoming and relaxing outdoor space for you and your family to enjoy. So, start by tidying up your garden, removing any weeds or dead plants, and trimming overgrown bushes or trees.
Consider adding colorful flowers and plants that thrive in your region to bring life and beauty to your garden, too. You can also install garden beds or planters to grow your own vegetables or herbs, promoting a healthy and sustainable lifestyle. Moreover, adding a pathway or stepping stones can create a visually appealing and functional element.
Energy efficiency enhancements
When it comes to improving your home's energy efficiency, there are several enhancements you can make that will not only reduce your carbon footprint but also save you money on utility bills. Start by installing programmable thermostats, which allow you to set specific temperatures for different times of the day. This ensures optimal comfort while minimizing energy wastage! Upgrading to energy-efficient appliances, such as refrigerators, washing machines, and dishwashers, can also significantly reduce electricity usage.
Another effective step is adding insulation to your attic and walls. This helps regulate indoor temperatures and prevents heat loss during winter and heat gain in the summer. By sealing air leaks around doors and windows, you can further improve energy efficiency. Additionally, consider replacing traditional light bulbs with energy-efficient LED lights, which consume less energy and have a longer lifespan.
Plumbing and electrical updates
When it comes to upgrading your home's plumbing and electrical systems, it's crucial to prioritize certain essential updates. For example, you might need to entirely replace old pipes due to wear or redo your home's electricity grid. However, tackling such projects often entails a considerable amount of mess and debris.
So, you'll definitely want to rely on experts to move the furniture in affected rooms into storage. And you'll need to rely on the expertise of professionals who can efficiently handle the home improvement steps involved! So, whether you need to replace outdated wiring, fix leaks, or upgrade fixtures, professional technicians are necessary.
Kitchen and bathroom renovations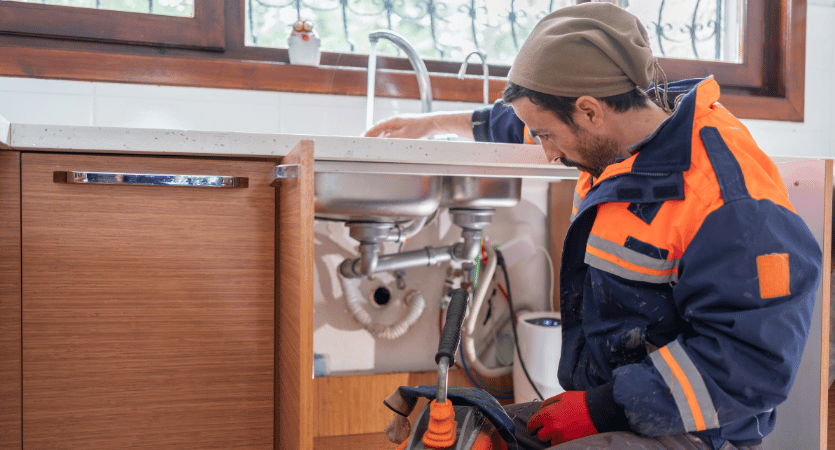 Kitchen and bathroom renovations are popular home improvement steps for homeowners looking to enhance their living spaces. From updating countertops and cabinets to installing energy-efficient appliances, these upgrades can transform the look and functionality of your home. Of course, it's important to consider your budget and prioritize accordingly. Some projects, like correcting a floor slope, may be more expensive and require more careful budgeting.
However, these investments can be worthwhile, as they address structural issues and improve the overall quality of your home. Of course, whether you're looking to create a modern and sleek kitchen or a spa-like bathroom retreat, consulting with professionals first is the right move. With careful planning and expert guidance, your kitchen and bathroom renovations add value to your home for years to come.
Basement renovation
When it comes to basement renovations, transforming this space into a functional and inviting area can greatly enhance your home. From creating additional living spaces to adding storage solutions, the possibilities are endless. However, before diving into the renovation process, it's essential to clear out the basement. And, as the experts from Number 1 Movers Canada suggest, enlisting professional helpers is highly recommended.
Clearing out a basement can be a daunting and labor-intensive task, after all. Especially if there are large items or clutter to deal with. So, by relying on the expertise of professionals, you can save time and effort, allowing you to focus on the exciting aspects of your basement renovation project.
Outdoor spaces
Outdoor spaces play a vital role in enhancing the overall appeal and functionality of your home. Whether you have a small backyard or a sprawling lawn, there are ways to transform it into an outdoor oasis. Consider landscaping improvements, such as adding vibrant plants and flowers, or creating inviting pathways.
You can even consider incorporating a focal point like a water feature or fire pit. Building a deck or patio also provides a designated space for outdoor gatherings and relaxation. Don't forget to install outdoor lighting to extend the usability of your outdoor space into the evening hours, either. So, by investing in outdoor spaces, you can create an extension of your home where you can unwind, entertain guests, and enjoy the beauty of nature.
Safety measures
When it comes to your home, one of the most important home improvement steps is ensuring safety measures are in place. Protecting your loved ones and your property should be a top priority, after all. So, start by installing smoke and carbon monoxide detectors throughout your home to alert you in case of a fire or gas leak. Additionally, consider adding security systems and surveillance cameras to deter potential burglars.
Upgrading entry doors and locks can also enhance the security of your home. Reinforced doors, deadbolts, and smart locks offer an extra layer of protection that's difficult to overcome. Of course, don't forget to regularly check and maintain these safety measures to ensure they are functioning properly.
Interior painting and flooring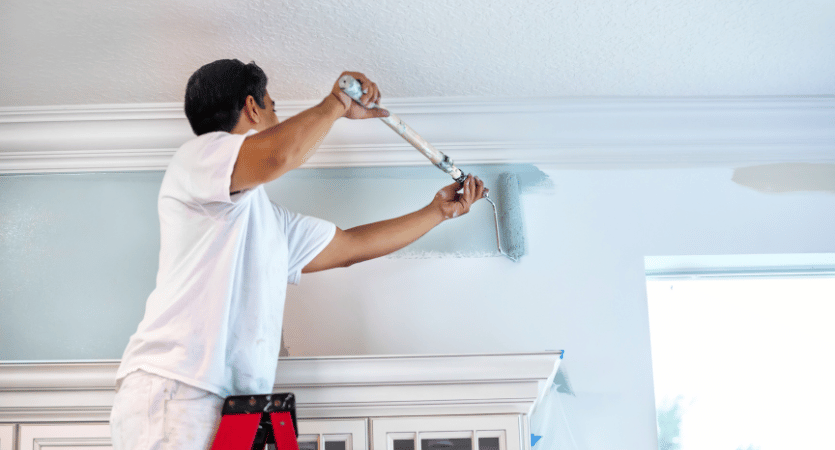 Interior painting and flooring are key elements in transforming the look and feel of your home. A fresh coat of paint can instantly revitalize a room, adding personality and creating a welcoming atmosphere. When choosing paint colors, consider the overall aesthetic and desired mood for each space. As for flooring, there are numerous options to suit your style and practical needs, from hardwood and laminate to tile and carpet.
However, it's important to note that certain flooring types may require additional steps, such as lowering a floor, before installation. This is particularly relevant when transitioning between different flooring materials or addressing uneven surfaces. So, consulting with professionals can help you navigate these considerations and make the best decisions.
Accessibility upgrades
Accessibility upgrades in your home are not only beneficial for those with mobility challenges. They also play a crucial role in aging gracefully in place. So, by making your home more accessible, you can ensure that it remains comfortable and safe as you grow older. Installing ramps or lifts can facilitate easy movement between different levels.
While widening doorways and hallways allows for smooth navigation with mobility aids! Adding grab bars and handrails in key areas, such as bathrooms and staircases, also provides additional support and stability. These upgrades promote independence and reduce the risk of accidents or injuries. Investing in accessibility upgrades is an investment in your future, allowing you to maintain your freedom and quality of life.
Smart home integration
Smart home integration has significantly improved the way we interact with our living spaces. By incorporating smart technologies, you can control various aspects of your home with ease. For example, installing smart thermostats and lighting systems allows you to adjust the temperature and lighting levels remotely. Implementing voice-controlled home automation also enables you to control devices and appliances through voice commands, making everyday tasks more convenient.
And smart security systems provide peace of mind by allowing you to monitor and control your home's security from anywhere. These technologies not only streamline daily routines but also offer improved safety and energy savings. So, with smart home integration, you can create a connected and efficient living environment tailored to your preferences.
Working to boost your home's comfort and value
With our guide on the essential home improvement steps for Canadian homeowners, you'll make your home comfier and more valuable! So, don't hesitate to pursue any projects that interest you as long as they won't severely hurt your budget.