Are you tired of seeing unsightly yellow stains on your toilet rim? You're not alone! We all hate the yellow stains on the toilet rim. They just don't fit the concept of a hygienic toilet. So, what causes yellow stains on the toilet rim and sit? Also, how to remove yellow stains from toilet rim?
These stubborn stains can be caused by several factors, from hard water to mineral build-up. You can eliminate the yellow stains with baking soda and vinegar, an abrasive sponge, mild bleaching powder, and even with a toilet bowl cleaner.
We will discuss using different chemicals and cleaning tools to get rid of yellow stains from the toilet rim. Also, we will discuss its reasons and ways to prevent it from keeping your toilet clean and hygienic so it looks fresh and attractive. Thus, with our helpful guide, you can say goodbye to embarrassing bathroom moments and hello to a sparkling-clean toilet!
What Causes Yellow Stains on Toilet Rim?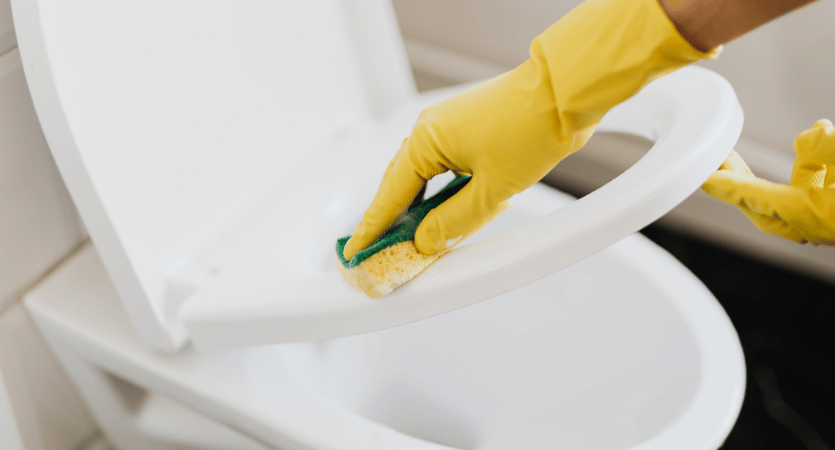 One of the homeowners' most common problems is yellow stains on their toilet rims. These stains can be unsightly and difficult to remove, but before we dive into how to get rid of them, let's first understand what causes them.
Hard water development:
The main culprit behind these pesky stains is hard water. Hard water contains mineral deposits such as calcium and magnesium. It will build up over time and leave a yellowish residue on surfaces like toilets. The longer these deposits are allowed to sit, the harder it becomes to remove them. Also, they react with the toilet water to make the entire bowl yellowish and ugly. 
Stagnant water
Stagnant water in the bowl can also contribute to yellowing around the rim. Many people will keep their toilets unflushed for extended periods. As a result, bacteria build-up occurs, which leads to discoloration. It is more unhygienic than hard water residues since human feces are responsible for the toilet bowl and rim discoloration.
Use of harsh chemicals:
We often use harsher cleaning chemicals for the toilet bowl. Harsh chemicals found in some cleaners may react with minerals in hard water, leading to staining. Therefore, using various cleaning products used in your bathroom routine is also responsible for yellowing the toilet rim and bowl.
It's essential for homeowners with hard water issues regularly clean their toilets using appropriate cleaning products. Also, you may use a water softener in the main tank to prevent the water from discoloring your toilet rim.
How to Remove Yellow Stains from Toilet Rim?: Top 7 Ways Described
Yellow stains on the toilet rim are unsightly and can also indicate poor hygiene. Fortunately, removing them is easier than you might think. Here are some effective ways to remove yellow stains from your toilet rim so your toilet may look like the royal toilets of Windsor Castle. 
Method 1: Use baking soda and vinegar mixture:
Mixing baking soda and white vinegar is one of the most common methods to wipe out hard water residues. You can apply the mixture on the toilet bowl, rim, sink, and whatnot. Also, the homemade cleaning recipe is easy and affordable to make without a problem.
You may create a cleaning solution by mixing baking soda and vinegar in equal parts until. You must ensure that it forms a paste. Apply the paste directly onto the stain and let it sit for 10-15 minutes before scrubbing with a brush or sponge. Don't use hot water since it can react with the calcium, iron, and magnesium in the hard water to worsen the condition further.
Always clean the toilet with cold water after applying the baking soda and white vinegar paste. Also, depending on the yellowing level, you may have to repeat the process twice or thrice.
Method 2: Use bleach on the toilet rim:
Another option is to use bleach or hydrogen peroxide. Both hydrogen peroxide and bleach are known to wipe out stubborn residues from any space. So, applying bleach will be a good solution when you find yellow stains and reddish spots on the toilet bowl and rim.
Just ensure to wear gloves and follow instructions carefully when using these chemicals. You should apply either solution directly onto the stain and let it sit for several minutes before scrubbing.
Also, note that too-powerful bleach can hurt the porcelain toilet bowls. So, check for its utility on different toilet bowls before applying the chemical.
Method 3: Use an abrasive cleaner:
You may also use an abrasive cleaner to remove the yellow stains from the toilet rim. This type of cleaner is great for removing tough stains and can be found at most grocery stores.
Simply wet the toilet bowl with water, apply the abrasive cleaner to the rim, and scrub with a toilet brush. Be sure to follow the instructions on the label.
Method 4: Use commercial toilet cleaner:
Another option is using a commercial toilet cleaner designed to remove stains. These cleaners can be found at most grocery or hardware stores. Simply squirt the cleaner onto the rim, let it sit for a few minutes, and then scrub with a toilet brush.
Method 5: Pumice for hard stains:
If the stains are particularly hard to remove, you may want to try using a pumice stone. Pumice stones are an effective cleaning material for toilets, especially if it is made with porcelain. You must wet the stone and gently rub it over the stained area.
Nonetheless, you should be careful not to scratch the surface. Also, don't forget to rinse the area thoroughly with water when you're done.
Method 6: Clean the stains with a sponge:
A simple sponge can also work wonders in removing yellow stains from the toilet rim. First, dampen the sponge and apply a bit of dish soap. Now you can gently scrub the stain until it lifts. If the stain is too hard to wipe out, repeat sponging it multiple times.
Finally, rinse the area thoroughly with water when you're done. You can use soap or detergent with the sponge for better results.
Method 7: Use of coke:
Believe it or not, Coca-Cola can also clean yellow stains from your toilet. Simply pour a can of Coke into the toilet bowl and let it sit for an hour or more. The acid in the Coke will help break down the stain, making it easier to remove. Lastly, flush the toilet a few times to rinse any remaining residue.
Also, you may combine baking soda and Coke instead of vinegar to clean the yellow stains. Once you wipe out the toilet bowl, the acidic cleaning solution will leave no yellow marks behind.
Tips to Prevent Yellow Stain on Toilet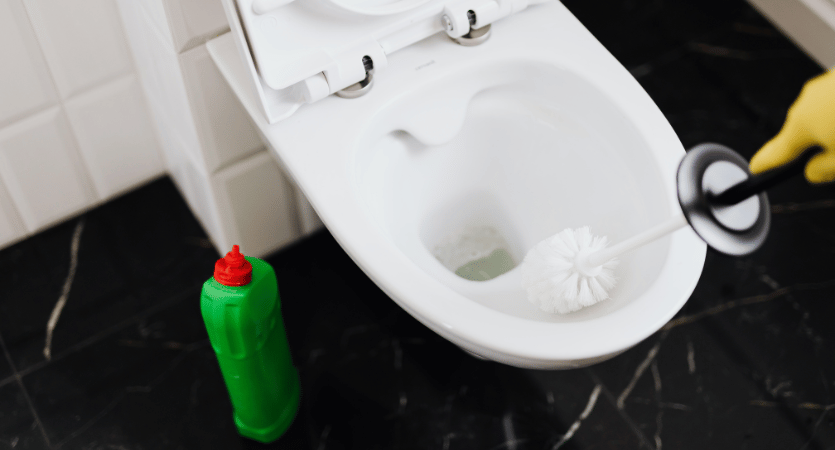 The yellow stains on the toilet rim can be quite an eyesore. Naturally, most people wouldn't want them to persist. While it is essential to know how to remove these stains, it's also wise to learn how you can prevent them from forming in the first place.
Regular Cleaning:
The importance of regular cleaning cannot be overemphasized when it comes to preventing yellow stains on your toilet. Ensure you clean your toilet daily or at least twice weekly with a good cleaner.
Adjust Your Water Quality and Pressure:
Hard water causes mineral build-up that leads to stubborn yellow stains. If this is the case for you, consider adjusting your water quality by installing a softener or using descaling agents. A water softener is the best solution since it will also prevent yellow stains from building on other spaces.
Also, at times chlorine gas may be responsible for the yellow stains. So, you must ensure proper ventilation to stop chlorine gas and over-buildup in the bathroom. 
Be Mindful of What You Flush:
Avoid flushing anything apart from human waste and tissue paper down your toilet bowl. It is crucial since other items might clog and leave behind residue that causes staining. Many people often throw away food particles, pet flakes, etc., which are responsible for staining the toilet bowl and seat.
Use Toilet Bowl Tablets Sparingly:
Although they may make things smell nice for extended periods, some toilet bowl tablets contain harsh chemicals that cause discoloration over time. So use sparingly if needed. If you indeed want to make your toilet look beautiful, you can use FD&C Blue No. 1 dyes and Acid Blue 9 for a pleasant smell and attractive blue water in the toilet bowl.
Keep Wet Areas Dry:
A moist environment promotes bacterial growth. It exacerbates stain formation in toilets, so ensure your bathroom stays dry always. You can eliminate such nuisance by placing a small dehumidifier in your bathroom that will soak the moisture to keep the space clean.
So bacterial and hard water residues won't develop inside the toilet bowl and rim. As a result, you will get a cleaner and more hygienic toilet space.
Conclusion:
Toilet rim stains can be unsightly and difficult to remove, but with the right approach and tools, you can get rid of them easily. You can follow this guideline on how to remove yellow stains from the toilet seat to eliminate the problem forever.
Despite trying these methods, are you still struggling with yellow stains on your toilet rim? In that case, it may be time to call a professional cleaning service or consider replacing your toilet.
Ultimately, maintaining a clean bathroom is essential not only for hygiene reasons but also for aesthetic purposes. With a little bit of effort and some regular maintenance, you can keep your bathroom looking sparkling clean year-round!