While renovating a bathroom or building a new one, most homeowners are awe-struck to see the huge price difference between 14″ and 12″ rough-in toilets. While a standard 12″ rough-in toilet is around $250 comfortably, you must spend more than $350 for a 14″ rough toilet. And most 14″ rough-in toilets are priced way beyond $500, which is almost 40% to 60% higher than the 12″ rough-in toilets.
So, why are 14″ rough-in toilets more expensive? Also, what's their difference from the 12″ rough-in toilets, and finally, which one will be best for your bathroom? Plus, you may wonder about the difference between these two toilet types.
First, 14" toilets are more expensive because of their scarcity and limited availability. Also, you will need a special-order process and professional installation for the 14″ rough-in toilets. All these factors are responsible for the increased pricing of the 14″ rough-in toilets.
What Is a 14″ Rough-in Toilet?
A 14″ rough-in toilet has a 14 inches distance between the wall and the center of the flange where it connects to the waste pipe. The measurement is essential because it determines how far you can install the toilet from the wall and flange.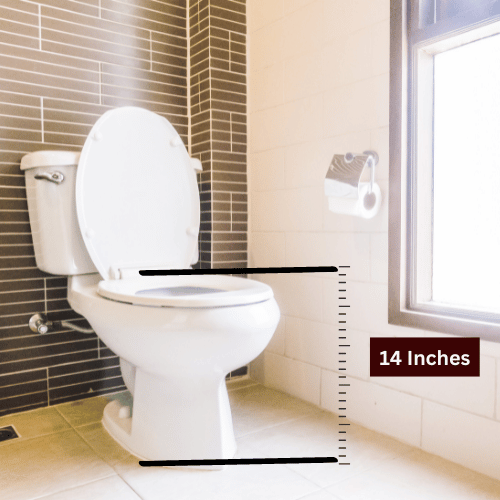 The rough-in distance will depend on when your house was built, but many older homes have a 14″ rough-in. For this reason, if you're renovating or restoring an older home, you may need to use a toilet with this specific measurement.
Nonetheless, 12″ rough-in toilets have become a standard feature in today's apartments and homes. You will also find different toilet sizes, such as 10″, 12″, and even 16″. These sizes are more common than the standard 14″, particularly the 12" ones. As such, it may be difficult to find a 14″ rough-in toilet. It could come at an additional cost due to their rarity.
When purchasing a new toilet for your bathroom renovation project or new build, accurately measuring your rough-in distance is crucial. It will help you select the right-sized unit for your needs. Otherwise, installation issues such as bathroom sink filling up, could arise that result in costlier repairs.
Why Are 14 Rough In Toilets More Expensive?: Top Five Reasons
There are several reasons why 14 rough-in toilets are generally more expensive than their 12-inch counterparts. Everything plays a crucial role in the increased pricing of the 14″ rough in toilets, from limited availability to increased cost of materials.
Increased Material Cost:
Typically, 14″ rough-in toilets have a longer distance between the wall and the waste pipe. So, you will need more material to create a 14-inch rough-in toilet. For instance, you will need longer drain pipes and bigger flanges. It results in higher manufacturing costs.
On top of it, manufacturers often use expensive materials such as porcelain for these toilet bowls. It contributes to the increased pricing too. Thus, you will see a 40% or even more pricing difference with the 12″ standard toilets, which is enormous.
Less Common:
14-inch rough-in toilets are less common than standard-size models. It happens because the manufacturers produce them on a smaller scale, making them pricier. Also, 12″ rough-in toilets have become standard in American homes.
As a result, there's less production for the 14″ rough in toilets, making them harder to find. It boosts their pricing insanely.
Limited Availability:
Since manufacturers produce only a few models of 14″ rough-in toilets, finding them can be harder. And obviously, this scarcity in the market has triggered its pricing. The scarcity means their pricing has gone up and touched the sky for no reason.
Special Order Process:
Many retailers may not have these toilets readily available in-store or online. So, when you need one, you have to order them specially and only after that the manufacturer will make it for you. This custom order processing also makes 14″ rough-in toilets more expensive.
Professional Installation Required:
Installing a 14-inch rough-in toilet will require professional installation services. The plumber may need to adjust the flange, drain pipes, flushing system, and toilet tank, especially for the 14″ designs. Since it requires time and different tools, installation cost increases rapidly.
So, no doubt, it contributes to the overall expense of the toilet too.
Undoubtedly, these factors may make purchasing a 14-inch rough-in toilet more expensive upfront. Yet, it's important to remember that investing in quality fixtures can save you money over time. So, even if you get a 14″ rough-in toilet, get a quality one.
Difference Between 14″ and 12″ Rough In Toilets
One of the most important factors when purchasing a toilet is the rough-in measurement. The rough-in refers to the distance between your bathroom wall and the center of your toilet's drainpipe. The industry standard for a toilet's rough-in size is 12 inches, but some bathrooms may require a 14-inch rough-in instead.
The difference between a 14″ and a 12″ rough-in toilet lies in their measurements. A standard 12-inch rough-in will work fine if you have enough space between your wall and the flange bolts that secure your toilet bowl to the floor. However, if this distance is greater than 13 inches, then consider using a larger model with a 14-inch measurement.
Another critical difference between these two types of toilets is their availability on the market. You will see 12″ rough-in toilets in almost every physical and online bathroom and plumbing shop. On the contrary, 14″ rough-in toilets are harder to get. So, you won't find them easily, unlike the standard 12″ ones. However, with bigger space, a 14" rough-in toilet is suitable for conjoined twins. 
You will also see their difference in the plumbing works. It involves different-sized toilets, such as replacing an old model or installing new ones from scratch. So, we recommend you consult with professional plumbers beforehand.
They can inspect your bathroom and recommend what works best based on specific requirements like layout constraints. It will ensure optimal performance without any issues down the line!
| | | |
| --- | --- | --- |
| Comparable Point | 14″ Rough In Toilet | 12″ Rough In Toilet |
| Difference | The distance between the wall behind the toilet and the center of the floor drain is 14 inches. | The distance between the wall behind the toilet and the center of the floor drain is 12 inches. |
| Pricing | Typically 40% to 50% more expensive due to their specialized size | Typically less expensive compared to 14″ toilets due to their standard size |
| Availability | It can be harder to find in stores or online | Widely available in most home improvement stores and online retailers |
| Standard Features | Often have larger water tanks and elongated bowl designs | Tend to have smaller water tanks and round bowl designs |
| Uses | Ideal for bathrooms with larger spaces or where a 14″ rough-in is already installed | Suitable for most residential bathrooms with regular rough dimensions |
Can you replace a 14 rough-in toilet with 12?
If you have a 14-inch rough-in toilet and are considering replacing it with a 12-inch model, or vice-versa, it can be a real headache. So, you must consider a few things before switching between these toilets.
A rough-in is the distance between the wall behind the central drainpipe and the toilet. Replacing a 14-inch rough-in toilet with a 12-inch model may be possible, but there are some potential challenges.
First, check if your bathroom has enough space for a new installation. The smaller dimensions of a 12-inch rough-in toilet may require moving or adjusting plumbing lines. It could add extra costs to your renovation project. Second, ensure the waste pipe is compatible with the old and new toilets' sizes. Any miscalculations will lead to costly damage repairs.
Switching from a larger-sized toilet means you must cover up any gaps left by removing an old fixture. So, it may require repairing or replacing the surrounding floor, tiles, and walls.
In summary, replacing a larger toilet with one requiring smaller measurements, such as in this case, is possible. Going from 14 inches down to 12 inches or vice-versa is possible. However, you must be ready for a few drainpipe and flange system adjustments, so calling a plumber is essential.
Which Rough In Toilet Is Best For your Bathroom?
Choosing the best rough-in toilet for your bathroom ultimately depends on several factors. The first consideration is the space available for a 12″ or 14″ rough-in. If you have a smaller bathroom, opting for a 12″ rough-in model may be better.
Another factor to consider is your budget. As discussed earlier, 14″ rough-in toilets are more expensive than their 12″ counterparts. So, a 12″ option may be the way to go if price is an issue.
Additionally, think about personal preferences and needs. Some prefer comfort-height toilets, while others prioritize water conservation with dual-flush options. Regarding this, 14-inch toilets with bigger toilet tanks may be a good choice.
Also, irrespective of the size, check the design of the toilet system. You will find one-piece and two-piece toilet systems for both dimensions. 14″ toilets often have a two-piece design meaning a separate toilet bowl and tank, due to their increased sizing. So, it needs two different installations and is not as durable as one-piece standard 12″ rough in toilets. 
When choosing between a 12″ and 14″ rough-in toilet, it's essential to consider the requirements of your bathroom and budget. Only then may you choose the right one.
Conclusion:
You should now understand why are 14″ rough-in toilets more expensive. Its scarcity, custom order, and professional installation boost the pricing. Also, their one-piece design can be more expensive than the two-piece ones. So, if you have a budget, often up to $500 or more, you might choose the 14″ rough-in toilets.
Nonetheless, before the purchase, consider the bathroom size, drainpipe, and flange setup. It will ensure that the 14″ rough-in toilets fit your bathroom.