Have you ever gone to brush your teeth only to find your bathroom sink filling up with water? Or you went to use the sink and see it is full of standing water. Whatever the case, a waterlogged sink trap can be an annoying and gross problem.
So, you may ask, "Why is my bathroom sink filling up with water?" Also, how do you fix the water backing up in the bathroom sink?"
A bathroom sink typically fills up due to a clogged drain, leaky pipe, and damaged seals. Also, the P-trap may get blocked due to soaps, shampoos, etc. You can replace the damaged pipe or use a plunger to remove the clogs to help the sink work properly.
Why Is My Bathroom Sink Filling Up With Water?
Has your bathroom sink been slowly filling up with water? A constantly filling up sink with water can be confusing and frustrating. The cause of this issue is sometimes obscure. However, there are a few common factors that may be to blame. Common reasons for a filling sink include:
Clogged Drain:
Often, your sink may be filling up with water because of an obstruction in the drainpipe. The blockage will prevent the sink from draining properly. It could be caused by accumulated hair, soap scum, or other foreign objects. You can remove the drain cover and check for impurities or inspect the pipe with a flashlight to determine if this is true. 
Leaky Pipe:
Another common culprit for a filling sink is a leaky pipe. Over time, pipes can break down due to stress or damage and old age. It will cause water to seep out and accumulate in your sink. You will need to look for corrosion around pipe joints or inspect the pipe for any signs of weakening. It will allow you to detect such leaks.
Damaged Seals:
Sink seals help prevent air from entering your drainpipe when it's draining. In turn, it helps create suction and pull water down the drain. If the seals become damaged, it can cause air to suck in inappropriately. It will lead to water backing into your sink instead of draining properly. The seal gets damaged due to wear and tear.
You may need to remove the sink drain flange. Then, visually inspect it for any cracks or signs of deterioration to diagnose the problem.
What Causes a Waterlogged Sink Trap?
The sink trap could have hair and other gunk clogging it up. The build-up will eventually interfere with how water is drained from the basin. Naturally, it causes a waterlogged sink trap. Another reason could be because of a damaged drainpipe. When the pipe is damaged, this can prevent proper drainage too.
For either a clogged or damaged sink trap, you must fix it ASAP before it starts to smell. Yes, when clogged water starts backing up, it brings back the stinky odor from the sewage line. So, act fast before the bathroom sink filling up event makes your life unbearable.
For clogged traps: You'll need a drain cleaner or hot boiling water and an old cloth. Remove parts of the trap and use the cleaner or boiling water to remove hair build-up.
For damaged traps: Replace pipes if they're damaged or leaking using the plumber's tape around threads (if necessary) and sealant for joints between pipes and other fixtures like showers and bathtubs.
Symptoms of a Blocked Drain
If your bathroom sink keeps filling up with water, it might be due to a blocked drain. One symptom of a blocked drain is gurgling noises coming from the pipes. Thus, when you hear them, then you know what the issue might be.
But that's not all. A blocked drain can cause a slow-draining sink. There may even be an odor from the pipes. It will often be a nasty smell of mold or mildew. And if your plumbing system isn't ventilated correctly, air could also be blocked. Hence, it will cause bubbles of air to get trapped in your sink. So, it will fill up with water.
Here are some other symptoms that may indicate a blocked drain:
Pooling of water around the bottom of your sink.
Water backing up in other drains in your home.
A bad smell is coming from the pipes.
An increase in your water bill.
Gurgling noises come from the pipes when you flush the toilet or run the sink tap.
How to Diagnose the Source of the Leak
So now that you've noticed that your bathroom sink is mysteriously filling up with water. But how do you know which part of the sink is causing the water to back up? When diagnosing a bathroom sink leak, start by taking a look at the following:
First, look at the pipes leading to and coming out of your sink. You should check for loose fittings and cracked or damaged seals.
The shut-off valves below or near your bathroom sink can be responsible too. So, check if they're completely open or shut. Also, consider if they're not too old or corroded.
All visible plumbing in the wall may have been damaged. These are usually behind the cabinet, so you might need a flashlight to see them.
The sink itself can be problematic. So, lift it and inspect it underneath for any possible cracks in its body.
The drains and seals around them may be broken. Therefore, ensure there's no warping that could let any water seep through.
Next up, look at your overflow pipes. Carefully verify if it's clogged and if there's any corrosion around it.
Finally, check the P-trap underneath your bathroom sink for clogs, corrosion, or signs of leaking.
Once you've visually inspected these components and identified which one is causing the leak, it'll be much easier to move on to finding an effective solution for your problem!
DIY Solutions to Fix a Clogged Sink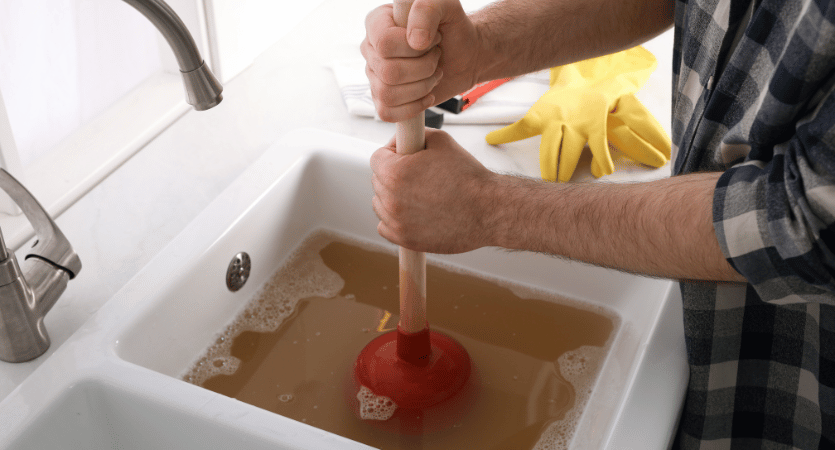 You've already taken a peek at the piping under your sink. Also, you could be dealing with a clog. You can, fortunately, fix the clogged bathroom sink with homemade solutions.
Boiling water
In most cases, the clog isn't too serious. So, pouring a pot of boiling water down the drain can do the trick. Just ensure you're careful about not scalding yourself! You may wear gloves while pouring the boiled water through the sink.
Also, remove the sink stopper if it is blocking the water. Cleaning the bathroom sink stopper will also help in draining the water faster.
Baking soda and vinegar
Another easy fix is mixing half a cup of baking soda with a cup of white vinegar. Once you pour the mixture through the clogged pipe, let it sit for an hour. 
Then pour boiling water down the drain. For extra oomph, you can mix in some Epsom salts too. The reaction caused by mixing these ingredients can help loosen up any gunk clogging up the plumbing. As you flash the mixture with boiling water, it removes soap scum and hair. So, your bathroom sink won't back up water anymore.
Plunger
The old-fashioned plunger might seem intimidating. But it's surprisingly easy to use. Start by pouring some hot water into the sink. It ensures you have enough liquid to seal over the plunger's hole.
Now, place the plunger over the sinkhole and push firmly. You should feel suction from the plunger. It helps break up whatever is causing the clog. Repeat this action three or four times. Lastly, try to flush out any debris with more hot water.
Conclusion:
The bathroom sink fills up with water mainly due to clogged drainage or P-trap. So, you should eliminate the cause of the water backing up in the bathroom sink. You may remove the P-trap and clean it. And for minor blockages, using vinegar with hot water and baking soda should do the trick.
However, use a plunger for major clogs and fix the blocked sink ASAP. Finally, replace any damaged pipes or P-trap before it further deteriorates the problem. It will cost you $20 to $50 to replace the O-ring, washer, or seals.