Are you tired of your toilet base wobbling or leaking water onto your bathroom floor? If so, you can use caulk to seal the base and prevent further damage. However, with so many types of caulk on the market, knowing which one to choose can take time and effort. Naturally, people ask, "What type of caulk for toilet best works the best? Also, what are the alternatives to caulk for the toilet base?"
You may choose between clear and white caulk for the toilet base. Also, there's the option of silicone-based, polyurethane-made, and latex caulks for application on the toilet base. You must clean the toilet base and use a high-quality caulk gun to apply the caulk appropriately.
In this blog post, we will explore the different types of caulk available for sealing a toilet base and provide tips on proper application. We'll also offer an alternative solution for those who prefer to use something other than traditional caulk methods. Don't let a leaky toilet ruin your day – read on to learn more!
The Different Types of Caulk
When selecting the right caulk for your toilet base, there are a few different types to consider. The most common caulks are silicone, acrylic latex, and hybrid caulks.
Silicone is the most popular type of caulk thanks to its durability and flexibility. It works well in high-moisture environments like bathrooms and can withstand extreme temperatures without cracking or shrinking.
Acrylic latex is another popular choice due to its ease of use and affordability. This caulk dries quickly, making it ideal for small projects or those with minimal time constraints.
Hybrid caulks combine the best features of silicone and acrylic latex to create a versatile, durable, and easy-to-work option. They're typically waterproof, paintable, and able to adhere to various surfaces.
| | | | |
| --- | --- | --- | --- |
| Feature | Silicone Caulk | Latex Caulk | Acrylic Caulk |
| Waterproof | Yes | Yes | Yes |
| Flexibility | High | Medium | Low |
| Durability | Excellent | Good | Fair |
| Adhesion | Excellent | Good | Fair |
| Cure Time | 24-48 hours | 24 hours | 2-3 hours |
| Paintable | No | Yes | Yes |
| Odor | Strong | Mild | Mild |
| Cost | Expensive | Inexpensive | Inexpensive |
Silicone caulking is the most durable, has excellent adhesion and is waterproof. However, it is expensive and has a strong odor. Latex caulking is less costly and can be painted over. It has lower durability and adhesion compared to silicone caulking.
Acrylic caulking has the shortest cure time and is the least expensive option, but its adhesive properties are fair, and it has low flexibility.
What Type of Caulk for Toilet Base?
When choosing the best type of caulk for your toilet base, there are a few things you need to keep in mind. First and foremost, you want to ensure the caulk is waterproof and can withstand moisture. The last thing you want is water to seep underneath the toilet and cause damage.
Silicone caulk is often considered the best type of caulk for toilet bases as it has excellent sealing properties and can repel water effectively. It's also flexible, which makes it less likely to crack over time due to movement.
Another option is polyurethane-based caulks, which have similar properties but are more durable than silicone caulks. However, they require more effort during application as they're harder to work with than silicone ones.
Latex or acrylic-based caulks may seem affordable, but they're prone to cracking and shrinking over time when frequently exposed to moisture.
When selecting the best type of caulk for your toilet base, consider factors such as durability and flexibility during the installation process while still prioritizing effective sealing against moisture.
How To Apply Caulk Around Your Toilet Base?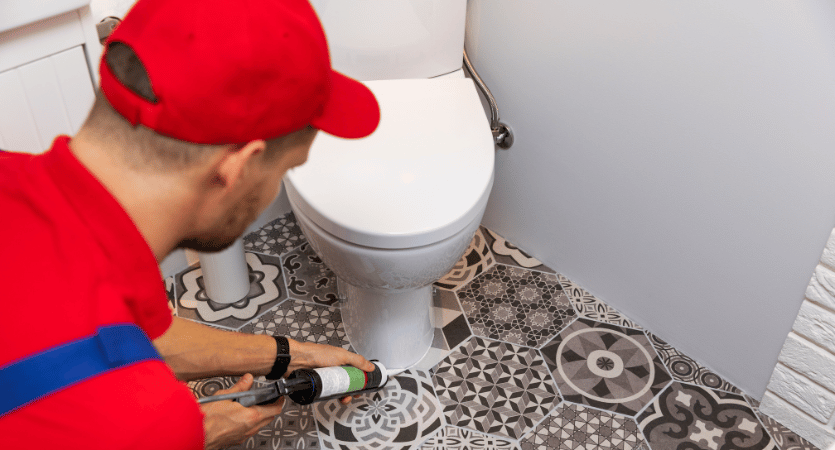 When applying caulk around your toilet base, there are a few things you need to keep in mind. Here's a step-by-step guide on how to do it properly.
Firstly, make sure the area is clean and dry before starting. Remove any old caulking or debris using a putty knife or scraper.
Next, cut the caulk tube's tip at an angle and insert it into a caulk gun. Squeeze some caulk onto a piece of cardboard until you have an even flow.
Now, apply the caulk in one continuous line around the perimeter of your toilet base. Use steady pressure on the gun trigger while moving along slowly.
Smooth any excess with your finger or a caulking tool dipped in water for best results. Be careful not to over-apply, as this may cause cracking later on.
Let the caulk fully cure according to its instructions before using your toilet again. This typically takes between 24-48 hours, depending on humidity levels and temperature conditions.
Also, you must maintain the caulk to avoid yellow stains on the toilet base.
Alternative to caulking for toilet base
If you're looking for an alternative to caulking your toilet base, a few options are available. From wax rings to foam gaskets, and silicone tape, you can use many things around the toilet base to secure it against leaks and residues.
Wax ring:
One of the most popular alternatives is using a wax ring. Wax rings are traditionally used in plumbing installations and can be found at any home improvement store.
Using a wax ring requires removing the old caulk and thoroughly cleaning the area around the toilet base. Place the wax ring over the flange and press it firmly into place before placing your toilet back on top of it. This will create a watertight seal without having to apply any caulk.
Silicone tape:
If you're looking for an eco-friendly option, consider using silicone tape instead of traditional caulking materials. Silicone tape is non-toxic and can be easily applied around your toilet base without leaving any residue or harmful chemicals.
Rubber Gasket:
A rubber gasket is another option for sealing the toilet base. It is a flexible ring made from rubber that creates a watertight seal between the toilet and the flange. Rubber gaskets are easy to install and can be reused if necessary.
They are also resistant to compression, which means they will maintain their shape over time, helping prevent leaks. However, like wax rings, it's vital to ensure that the rubber gasket is correctly installed to ensure a tight seal.
Foam Tape:
Foam tape is a less conventional alternative to caulking for sealing the toilet base. It is a self-adhesive foam strip that can be applied to the bottom of the toilet bowl to create a tight seal. Foam tape is easy to use and remove, making it a good option for temporary fixes or situations where caulking may not be suitable.
Epoxy Resin:
Epoxy resin is a strong adhesive that can secure the toilet to the floor and create a seal around the base. It is beneficial for fixing loose or wobbly toilets. Once the epoxy resin sets, it creates a durable and long-lasting bond between the bathroom and the floor.
If you need to make repairs or replace the toilet in the future, removing the epoxy resin can be difficult and may damage the floor. It happens with the domicile cup bacteria attack in the bathroom floor. Therefore, you should only use the epoxy resin if you are confident that the toilet will not need to be moved or replaced anytime soon.
White Vs. Clear Caulk For Toilet Base?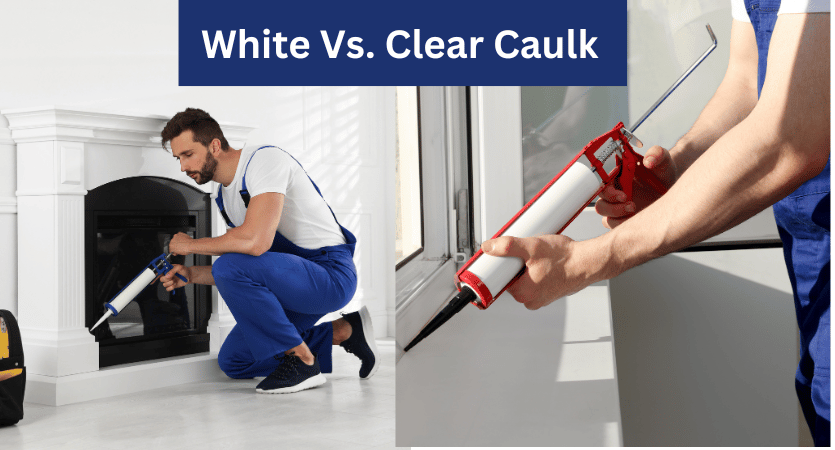 There are two main options for caulking a toilet base: white or clear caulk. The choice between the two caulks ultimately depends on personal preference. Let's see what caulking type for the toilet base is ideal and brings what benefits for the toilet base.
Proper installation is key regardless of whether you choose white or clear caulk. Apply the caulk in a continuous, smooth bead, filling gaps or cracks. Use a caulk smoothing tool or your finger to smooth out the caulk and create a clean, professional-looking finish
You must consider the caulk quality when choosing between white and clear caulk. It's crucial to select a high-quality caulk that is specifically designed for use in bathrooms. It will ensure that the caulk is resistant to mold and mildew, common problems in moist bathroom environments.
White caulking:
White caulk is typically used when the toilet base sits on a white floor. The white caulk blends in with the toilet base and the floor, creating a seamless look. White caulk can also be painted over if necessary, making it versatile.
Benefits of White Caulk:
Easier to work with and apply, a good option for DIY projects
It hides dirt and grime more effectively than clear caulk
It tends to be more affordable than clear caulk
Drawbacks of White Caulk:
It can create a noticeable contrast against darker tile or flooring
It may not blend in as well with colorful or patterned tiles
Clear caulk:
Clear caulk is often preferable when the floor color is not white. Also, you can choose it when you need a more subtle look. Clear caulk is also easier to apply since it doesn't require as much precision during the application process.
Benefits of Clear Caulk:
It provides a more seamless look that blends in with the flooring or tile
It can be a better option for bathrooms with colorful tiles or patterns
Can improve lighting in the bathroom by reflecting light off surfaces
Drawbacks of Clear Caulk:
It requires precise application and can be challenging to work with
It may show dirt and grime more quickly than white caulk
May yellow over time due to exposure to cleaning products
| | | |
| --- | --- | --- |
| Feature | Clear Caulk | White Caulk |
| Visibility | Invisible/Seamless | Noticeable |
| Color Compatibility | Suitable for colorful/patterned tile | Good for neutral-colored tile |
| Difficulty | Harder to apply | Easier to apply |
| Staining | It shows dirt/grime easily | Hides dirt/grime |
| Price | More expensive | Less expensive |
| Longevity | May yellow over time | May discolor over time |
| Lighting | Reflects light | Absorbs light |
Caulking tips for the toilet base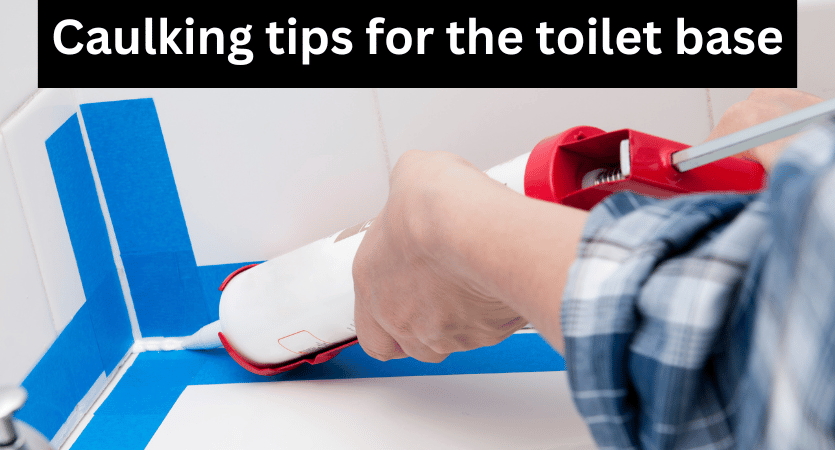 Finding a suitable caulking material for the toilet base doesn't guarantee longevity and application. You must also apply the caulk properly to stay for years without any problem.
Clean the area thoroughly before applying caulk: Make sure the surface around your toilet base is spotless and dry, without any dirt, debris, or moisture.
Use a high-quality caulk gun: Invest in a good-quality caulk gun to make it easier to apply the caulk smoothly and evenly.
Apply the right amount of pressure: When applying the caulk, use just enough pressure on the trigger of your caulking gun so that you don't over-apply or under-apply.
Smooth out excess with a tool: Once you have applied enough caulk around your toilet base, use a dampened finger or a putty knife to smooth out any excess material.
Let it cure properly: Allow sufficient time for curing before using your toilet again – this will vary depending on the caulk used but typically takes 24 hours.
Conclusion:
Silicone and latex-based caulk work best for your toilet base. However, the key is to find the proper caulk application method and maintain it afterward. Often, you may see yellowing in the caulk of the toilet base that happens due to uncleanliness, hard water, and residue development. So, clean it with white vinegar and baking soda to keep it hygienic and shining.
And if you don't like caulking the toilet base, you can always choose from foam tape, epoxy resin, and mortar for sealing and waterproofing the toilet base.