The shade and protection provided by gazebos are beneficial to any outdoor area. Adding a custom-designed gazebo to your garden will not just enhance the beauty of your outdoor area but you can make it functional by throwing parties or inviting friends/guests. You have to consider many things such as designing the most comfortable space for you to relax, entertain guests, play with your kids and enjoy the surroundings.
Besides adding visual appeal to your backyard garden, you have to work on its sturdiness. You can achieve a good quality custom-designed gazebo by using highly durable materials that match your style, go with garden design and are modern enough to help you create the backyard oasis of your dreams. In the market, you can find highly durable and water-resistant gazebo designs made up of wood, metal, and vinyl. So, it's all up to you to choose the best material for your gazebo.
We came up with custom-made gazebo design ideas. Here you can explore 7 beautiful gazebo designs which will make your backyard the apple of your eye. You can spend your weekends there enjoying with your loved ones and guests too.
7 Fantastic Custom-built Outdoor Gazebo Ideas
All seven are designed to be durable, low maintenance and long-lasting. Featuring high-quality materials designed by experts to make gazebos easy to assemble. So, these are the perfect choices to fulfil the purpose of entertaining family and friends.
Gazebo Idea 1: Gazebo Design With Swing Bed
The swing bed in a garden is a fantasy and ideally designed for relaxation. Imagine a gazebo with a comfy swing bed in your garden. It's like having your own personal relaxation spot whenever you want. Hang it in the gazebo, and you've got the perfect spot to unwind with a book or take a nap while swaying gently in the breeze.
Gazebo Idea 2: Gazebo Design For Farm
If your farm is big or you have a lot of space, custom farm-themed gazebo designs might be just the thing that you need. Use rustic wood and simple, sturdy beams to create a gazebo that fits right in with your countryside surroundings. It's an excellent spot for weekend picnics on your farm to watch your land or just enjoy the rural view. You can do it by enjoying your food or taking power naps. If you add a swing bed, it would be heaven for you.
Gazebo Idea 3: Custom Gazebo Landscaping Design
This idea is for spacious backyard spaces, about blending your gazebo naturally with your garden. Surround your custom-designed gazebo with lush landscaping, beautiful flowers, and fragrant plants and leave a space for kids to enjoy in the backyard. Add a winding path to invite guests in, and you'll have a gazebo that feels like it's part of nature itself.
Gazebo Idea 4: Custom Gazebo Design With Firepit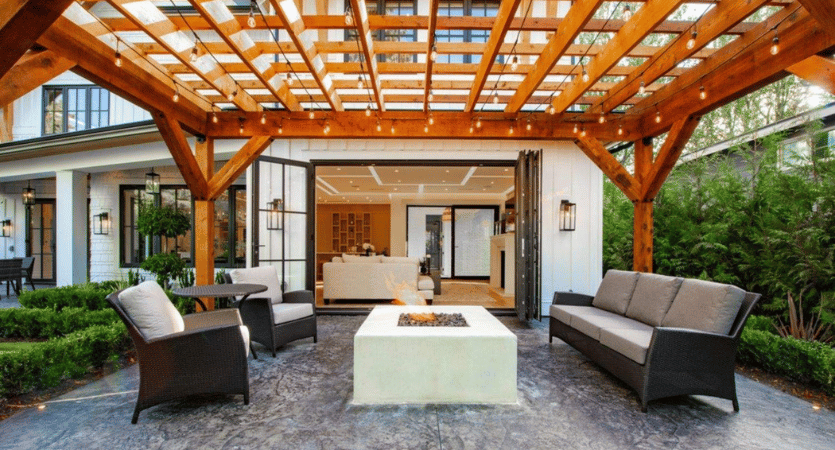 Imagine gathering around a warm and cozy fire pit in your gazebo on a cool evening. This amazing idea combines the comfort of a gazebo with the charm of a fire pit. Think about a fire pit in the center and you guys sit around it and enjoy your meal. What a perfect imagination. Right? Umm… Yes, you can roast marshmallows, tell stories, and enjoy the outdoors long into the night with this comfort.
Even this year, you can decorate it for Christmas and throw a party. It's a perfect way to bring your family and friends together on any occasion. The fire adds warmth and light to your occasions, creating a pleasant atmosphere for conversation. You can even customize the fire pit to fit your style and needs.
Gazebo Idea 5: Compact Gazebo Design for Swimming Pool Side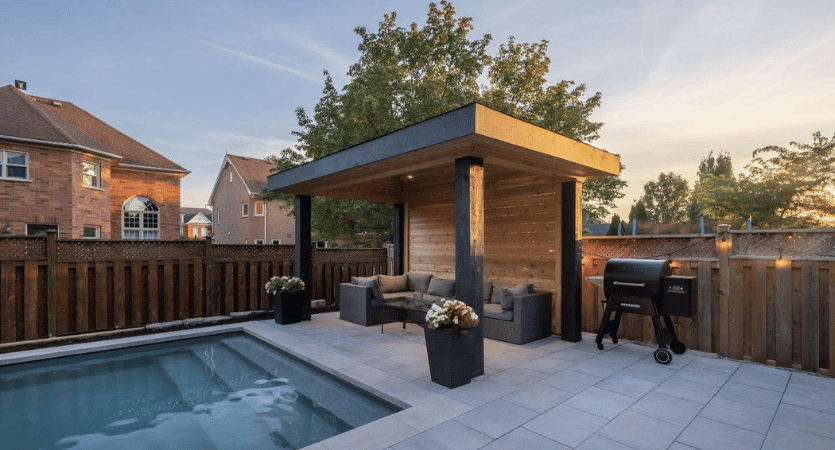 If you have a swimming pool and want some additions for your comfort, you can install a compact gazebo design. It can be a good choice for you as it provides a shaded area to escape the sun and a place to relax after a refreshing swim. Keep it simple and useful by selecting the finest water-resistant material for long-lasting durability. Add a few lounge chairs or you can add 2 to 3 swimming pool reclining chairs. 2 can be inside the gazebo and 1 outside to get vitamin D. This makes it even more inviting. It's easy to create a relaxing summer spot with just a few additions.
Gazebo Idea 6: Gazebo With Lights Design for Backyard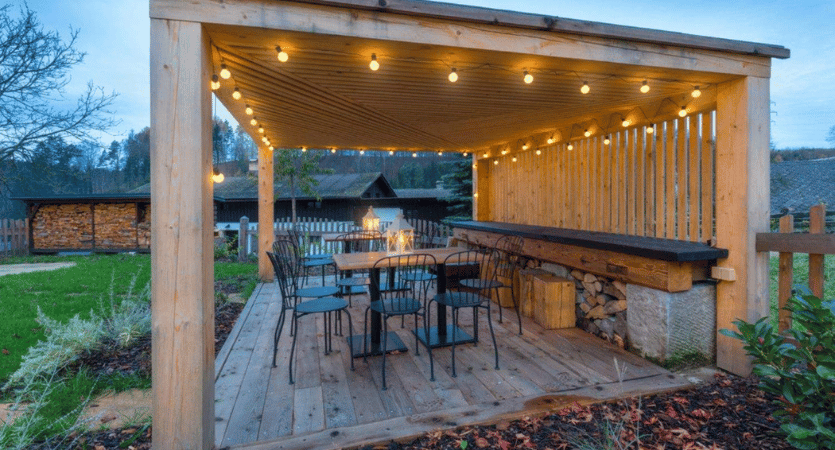 Let the fun last until the sun goes down with this custom design. A gazebo with nicely placed lights can turn your backyard into a wonderful place in the evening. In winter, it will look better, especially at Christmas. With Christmas decorations, you can decorate it even more. String lights, lanterns, or even built-in LED lighting can create a warm ambiance for outdoor gatherings. Adding some comfortable outdoor furniture and soft rugs makes it complete and beautiful. It also works well in restaurant settings as people love patio-style restaurants. And, for a romantic touch, add some speakers to enjoy your favorite songs under the stars.
Gazebo Idea 7: White Gazebo Design for Garden
Oh, this gazebo design is everyone's favorite as it is elegant and sophisticated. A white gazebo surrounded by a well-kept garden is what a family needs. Also, the coolest part is that it starts with a backyard door. You can use gazebo poles to hang camping hammocks. This adds a classic and natural touch and stands out against the vibrant greenery. This adds a classic and natural touch by standing out against the vibrant greenery. It is the best relaxation station for you to enjoy your summers and get the most Vitamin D. Enjoy your "Me Time".
Conclusion:
So, these seven different fantastic gazebo concepts cater to various styles and functionalities for your outdoor area and preferences. Make it more functional for relaxation anytime. Whether you want a comfortable place to rest, a useful addition to your farm, or a stylish centerpiece for your garden or pool, there's a custom-made gazebo design that will suit your needs. As soon as it is ready, you will appreciate your efforts!