Are you tired of struggling with a clogged toilet since time immemorial? Do you always reach for the plunger to unclog the blocked toilet drain? Are you fed up with the stinky odor coming from the toilet?
If so, then it's time to introduce yourself to Liquid Plumr! This powerful drain cleaner has been a lifesaver for countless individuals in unclogging toilets quickly and easily. It is a thick gel formulated of many chemicals to cut through the stubborn clogs in no time to offer you a clean, hygienic and unclogged toilet.
Buy how to use Liquid Plumr in the toilet to unclog it. Also, how exactly does Liquid Plumr work, and is it safe for your plumbing system? We'll explore everything you need to know about using Liquid Plumr in your toilet.
So, sit back, grab a cup of coffee, and let's dive right in!
What Is Liquid Plumr For Toilet?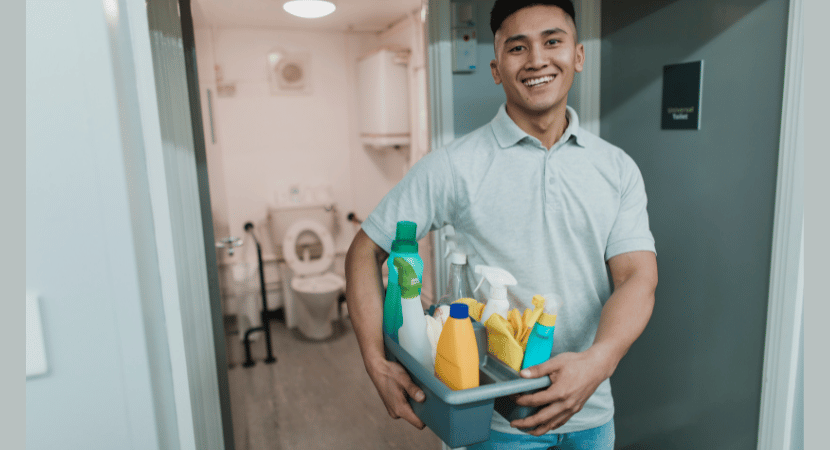 Liquid Plumr is a popular drain cleaner specifically designed to unclog toilets. It's an effective solution for clearing stubborn blockages that regular plungers can't seem to fix. The company markets it as the Full Clog Destroyer®. So, its name is pretty self-explanatory.
Liquid Plumr uses powerful chemicals to break down the buildup of hair, soap scum, and other debris in your pipes. Also, it uses "Pipe Guard" technology to prevent damaging the copper, brass or regular plastic pipes in your draining system.
You will find it in three versions:
So, its 910ML bottle will be the perfect solution for residential toilets. And for commercial, large public spaces and industrial areas, its larger bottles are ideal. Thus, you will find Liquid Plumr in every budget to fit your toilet unclogging needs. When you see toilet or bathroom water backing up, it can be an easy solution to unclog the drains and stop the water from backing up.
One of the main benefits of using Liquid Plumr over traditional plumbing methods is its speed and convenience. Rather than waiting hours or even days for a plumber to arrive, you can quickly use it and have your toilet running smoothly again in no time.
Also, it works brilliantly where regular plungers fail to remove the debris to unclog the toilet drain. Plus, it brings a shining effect to your toilet. You will, therefore, enjoy the cleanest and most hygienic toilet effortlessly.
Nonetheless, you must note that not all types of clogs can be cleared with Liquid Plumr. If you're dealing with a severe blockage caused by tree roots or major pipe damage, this solution won't work. Thus, it may be necessary to call a professional plumber for assistance.
In addition, it's essential to follow the instructions on the bottle carefully when using liquid plumbers such as Liquid Plumr. These products contain harsh chemicals which could cause serious harm if not used properly.
How To Use Liquid Plumr In Toilet: Step by Step Guideline
When facing a clogged toilet, Liquid Plumr can be a lifesaver. Nonetheless, using it inappropriately can damage the pipes and septic systems. So, you better follow our suggested easy steps to use Liquid Plumr effectively in your toilet.
First, put on gloves and protective eyewear before using Liquid Plumr. Also, ensure kids and pets are away since this harsh chemical can irritate their skin.
Next, remove as much standing water from the toilet bowl as possible. You may use a cup or bucket to remove the water. Removing the standing water from the toilet bowl ensures the thick gel directly reaches the clog. So, it won't get diluted by excess water and will show maximum effect on the clogs.
Shake the bottle of Liquid Plumr well before opening it. Also, carefully pour half of its contents into the toilet bowl if you are using the 910ML bottle. If you use the 2.37L or 3.78L bottle, pour 1/5th or 1/8th bottle of the concentration in the toilet.
After that, you should allow it to sit for 15 minutes. Therefore, it has time to work on breaking down any blockages in your pipes.
Afterward, flush with clean water to remove the broken-down clogs. Finally, you must flush the toilet with hot water too. You need to continue it until all remnants of Liquid Plumr have been washed away from the bowl.
Repeat these steps if your initial attempt doesn't unclog your toilet completely. However, this time you should allow more time for Liquid Plumr to do its job – up to an hour if necessary. Remember not to use too much at once or leave it in your pipes for too long. Or else it can cause damage over time. Also, ensure no traces of the Liquid Plumr are left in the toilet, or it can damage the pipes and septic tanks in the long run.
How Does Liquid Plumr Work?
Liquid Plumr is a popular drain cleaner used to unclog drains and pipes. But how exactly does it work? It's a common question people often ask but doesn't get a straightforward answer. So, here we go.
The main ingredient in Liquid Plumr is sodium hydroxide, lye or caustic soda. The chemical breaks down the organic material that causes clogs in your drain.
When you pour Liquid Plumr into your toilet bowl, sodium hydroxide begins to react with water. The chemical reaction creates heat. It helps dissolve the blockage by breaking down fats, oils, grease and other materials built up over time.
The powerful formula of Liquid Plumr clears away existing clogs and prevents future ones from forming. As it passes through your pipes, it coats them with a protective layer. Thus, it repels buildup and keeps them flowing smoothly.
It's vital to note that Liquid Plumr can effectively clear away certain types of clogs. It should never be used on toilets with non-removable obstructions such as toys or hygiene products stuck inside. In those cases, calling a plumber may be necessary for safe removal.
Liquid Plumr's combination of powerful ingredients and preventative properties make it a trusted solution for unclogging toilets. Also, it helps in keeping pipes clear and undamaged without the need for harsh chemicals or costly plumbing services. It has a "Pie Guard" mechanism to protect the pipes from unwanted damage.
Is It Safe to Use Liquid Plumr to Unclog Toilet?
You may wonder whether Liquid Plumr is safe to unclog your toilet. It is a critical question since you won't want to damage the toilet bowl, septic tank, copper pipes and brass.
Well, the answer is both yes and no. It depends on how you use it and what type of plumbing system you have.
Firstly, let's talk about safety precautions when using Liquid Plumr. Always wear gloves and protective eyewear before handling the product. Also, you must ensure proper ventilation by opening windows or turning on a fan. Or, the fumes can be harmful if inhaled for too long.
Also, you must never use more than the recommended amount on the product label. Also, you must realize that Liquid Plumr contains harsh chemicals. It includes sodium hydroxide and sodium hypochlorite, which can damage certain pipes if used improperly. If your plumbing system has PVC or plastic pipes, using Liquid Plumr may cause them to melt or crack. So, check your pipes and septic tanks, and assure that Liquid Plumr won't damage them.
Furthermore, exposing the product to water before pouring it into the toilet bowl will activate its ingredients prematurely. It will result in splatters that could potentially harm your skin. The splatters can damage the shine of the toilet bowl too. So, ensure that there's no standing water at all.
When used correctly, Liquid Plumr is an effective solution for unclogging toilets with metal pipes. However, you must be cautious, especially if you have installed PVC or plastic piping systems.
Also, after using Toilet Plumr, you can use dyes with cleaner to turn the toilet water blue for a stunning look.
Top Three Alternatives to Unclog Toilet Without Toilet Plumr
Liquid Plumr can be a great solution for unclogging your toilet. However, there are alternative methods you can use if you prefer not to use harsh chemicals. Thankfully, you may use homemade ingredients for unclogging stubborn toilet drains.
Here are the top three alternatives:
Plunger: A plunger is a simple tool that effectively and efficiently removes clogs in your toilet. You may place the plunger over the drain and then apply downward pressure. Finally, you may pull up vigorously to create suction. The suction will create a void to wipe out the debris.
Baking Soda and Vinegar: The natural method involves pouring one cup of baking soda into the toilet bowl, followed by two cups of vinegar. After that, you must wait 10-15 minutes before flushing to see if it has worked.
Plumbing Snake: If all else fails, a plumbing snake will still work brilliantly to clear stubborn clogs from your toilet pipes. Also, it is as effective as Liquid Plumr. You simply insert the plumbing snake into the drain until it feels any resistance. Then, turn it clockwise and push until you feel it break through any blockages.
Conclusion:
Knowing how to use Liquid Plumr in your toilet when faced with a clog can save time and frustration. However, you must always follow safety instructions carefully as it contains strong chemicals. Also, ensure your pipes and septic tanks are safe against harsh chemicals.
Also, remember our suggested alternatives above. Thus, you will have several options should an unexpected clog arise!