Gazebos let us enjoy the cool breeze while sipping our favorite drinks. Also, we can arrange many outdoor activities during summer and winter. So, a gazebo with a proper setup can be our true companion for leisure. However, the problem raises during a storm or high wind.
You must take steps to prevent the gazebo from being damaged at that time. So, an open or closed gazebo for high wind becomes a crucial decision. Should you keep the gazebo close or open during high winds? Also, what are the benefits of closed or open gazebos in general?
Closed gazebos are generally a better option for high winds than open gazebos. It saves interior furniture and decorations from damage. However, each type of gazebo has its benefits and disadvantages. So, your decision ultimately depends on your specific needs and preferences.
Now, let's take this gazebo discussion deep for your better understanding.
What Is An Open Gazebo?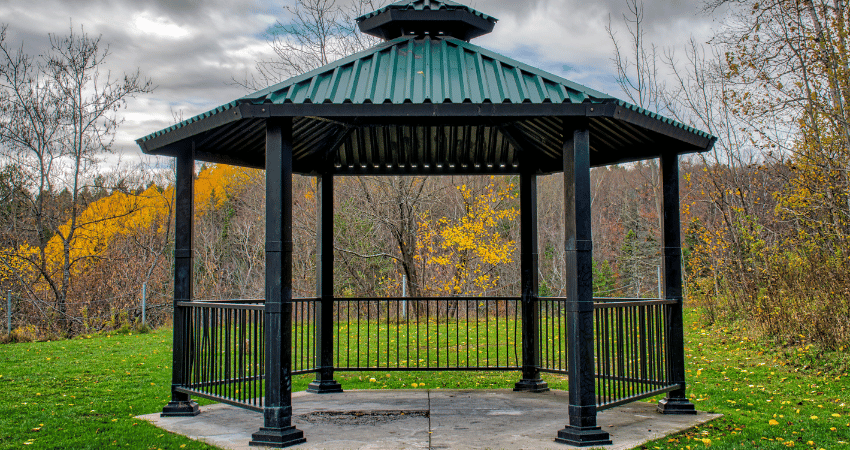 An open gazebo is a structure without walls or windows. It, however, offers shade and shelter from the sun and allows for ample airflow. Nonetheless, an open gazebo may not provide enough protection for those using it in high wind conditions. The wind can easily pass through the structure, causing the gazebo to sway or lift off the ground. Additionally, an open gazebo does not provide privacy or protection from insects.
An open gazebo has an open door and sidewalls. So air can penetrate through it. You may, however, see a net curtain for privacy. It is transparent and lets the air ventilate effortlessly. An open gazebo is ideal for cooking and enjoying the natural views.
Also, summer brings a cooling effect with natural airflow. It keeps the humidity level and temperature low. You will feel cooler and better. Now, look at the benefits of an open pavilion on general occasions.
Better air Flow:
Open gazebos provide natural ventilation. So, it makes them an excellent choice for warm and humid climates. They allow fresh air to circulate freely, creating a cool and comfortable environment. Choosing open gazebos will be right if you live in high-humid and tropical regions.
Better View:
Open gazebos provide an unobstructed view of the surrounding scenery. Hence, it is ideal for gardens, parks, and other outdoor settings where the view is crucial. Also, it will be ideal for family gatherings, picnics, and events.
You can arrange BBQ parties, and movie nights, in an open gazebo. So, it will suit your enjoyment and leisure purposes better.
Cost-Effective:
Open gazebos are typically less expensive than closed gazebos. So, it is a great option for those on a budget.
Open gazebos don't have any sidewalls. So you don't have to spend on sidewall fabric or canvas. It saves you huge money since these canvas fabrics can be costlier. You will, thus, find the open structure of a window better. It also saves you from installing a ceiling fan.
Disadvantages of an Open Gazebo:
First, an open pavilion is vulnerable to weather. Unfortunately, open gazebos provide minimal protection against harsh weather conditions. It includes rain, wind, and snow. So, it makes them less suitable for areas with extreme weather.
Also, open windows are not good for high wind for the same reason. It won't stand the stormy weather. You will also see damage to interior furniture with these open gazebos. It will be a huge repair cost for homeowners.
Finally, open gazebos have limited privacy. Indeed, these gazebos lack privacy, making them unsuitable for intimate gatherings. Also, it isn't good for events where privacy is crucial.
What Is a Closed Gazebo?
A closed gazebo is a structure with walls and windows. Naturally, it provides better protection from high wind, rain, or snow. The walls and windows offer privacy and protection from insects as well. However, a closed pavilion may feel stuffy and lack airflow. Additionally, the walls and windows may obstruct the view of the surrounding area.
Weather Protection:
Closed gazebos provide excellent protection against harsh weather conditions. They can withstand strong winds, heavy rain, and even snow. The roof cap of a closed gazebo ensures maximum protection from sunlight.
For a reason, it suits high winds and stormy weather better. If you live in a storm or hurricane-prone reason, choosing closed gazebos will be a good option. It will also safeguard furniture and interior items inside the gazebo.
Better privacy:
Another benefit of closed gazebos is their increased privacy. Closed gazebos are excellent for intimate gatherings, parties, and events. It remains closed, so no one can see what's happening inside. Also, it protects you from insects.
Enhanced aesthetic appeal:
Lastly, closed gazebos have better aesthetic appeal. Closed gazebos come in various designs and styles. It allows you to choose a design that complements your outdoor space. As a result, it enhances the aesthetic appeal.
Disadvantages of a Closed Gazebo:
Closed gazebos are generally more expensive than open gazebos. It can be a significant disadvantage for those on a tight budget. Nonetheless, you must consider their weather protection facility during high wind. Your expensive patio, gazebo furniture, and decorative items will be protected from storms. It will be a crucial factor when you have expensive chairs or seats.
Sadly, closed gazebos provide limited natural ventilation. Hence, during humid weather, closed gazebos will be uncomfortable. For this reason, it will not be a good option for tropical regions.
Is Gazebo Open Or Closed For High Wind Better?
A closed gazebo is a better option for high winds and storms. It ensures better protection against harsh weather conditions. According to the American Society of Civil Engineers, closed gazebos are designed to withstand wind speeds up to 60 mph. On the contrary, open gazebos are only suitable for winds up to 30 to 35 mph.
Moreover, you can secure the fabric of the closed gazebo with string and rope. It enhances their safety in storms and hurricanes. As you secure the closed gazebo with powerful rope, string, and screws, it will withstand winds up to 90 MPH. It's a standard that your outdoor beach houses will survive. So, you can't go wrong with closed gazebos for high-wind situations.
Also, the walls and windows help to reduce the wind's impact on the structure. So, it prevents the gazebo from swaying or lifting off the ground.
Nonetheless, you must adhere to the government rules for gazebos during storms. It will ensure better safety of the gazebo and your home during those gusty winds.
Top Five Factors To Consider When Choosing Between An Open Or Closed Gazebo:
Apart from high wind situations, choosing between a closed or open gazebo can be difficult. So, consider our suggested points for a quick and easy gazebo decision.
Purpose and the surrounding area:
What is the primary purpose of the pavilion? An open gazebo may be the better option if it's mainly for shade and a place to relax. A closed gazebo may be more suitable if it's for entertaining guests.
On the contrary, an open gazebo may be the better option for an unobstructed view. It lets you enjoy natural scenes. A closed gazebo may offer more privacy and block out noise if you're in a busy area.
Climate and protection:
Consider the climate in your area. A closed gazebo may provide better protection if you experience a lot of high wind, rain, or snow. You should also consider what you will use the gazebo for and its protection level.
A closed gazebo may be more suitable if you plan to use it for outdoor cooking or dining. An open gazebo may be a better option when you want a more open and airy space.
Budget and personal preference:
Closed gazebos are typically more expensive than open gazebos. So, you must determine your budget before making a decision. But remember that a closed gazebo will last longer than an open gazebo. So, its initial cost comes down considerably in the long run.
And ultimately, your personal preference should be a factor in your decision. Which type of gazebo do you find more aesthetically pleasing and functional for your needs? It will help you quickly find the right gazebo for your yard.
Conclusion:
A closed gazebo is undoubtedly a better option for protection from high wind, storms, and rain. It is even ideal during winter to save you from snowfall. So, if you have the budget, we strongly recommend choosing a closed gazebo over an open one. You can also add a touch of elegance with it using many decorative fabric styles. And for proper ventilation, you might quickly install a ceiling fan. It will ensure the right ventilation without any uncomfortable feelings.