An empty upper glass cabinet may be too simple. It can even be sometimes boring and not so eye-pleasing. So, you can decorate the upper glass cabinet to showcase your style. It will also add a unique touch to your kitchen space.
But, decorating a glass cabinet with a glass upper is confusing. At one point, you don't want to damage the glass. On the other side, you need to find a way to enhance its appearance. So, how to decorate upper glass kitchen cabinets?
Well, there are multiple ways to dedicate the kitchen cabinet to glass. From colorful glassware to decorative accents, there are countless ways to make the most of these cabinets. You may even use white paint, matching dish sets, and flower vases to give the upper cabinet a distinctive look.
How To Decorate Upper Glass Kitchen Cabinets:
Did you find the empty kitchen cabinet to be boring? If so, you can use glassware, white paint, or dish sets to make it look different and interesting.
Display Colorful Glassware: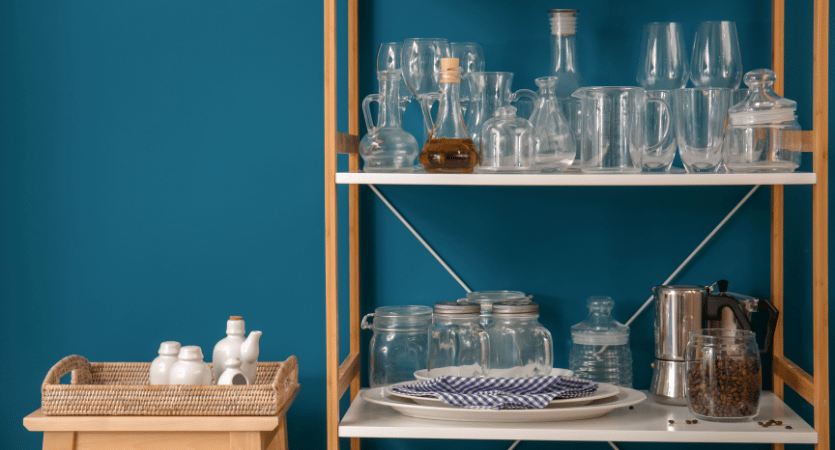 One of the simplest and most effective ways to decorate upper glass kitchen cabinets is colorful glassware. You can choose stylistic and colorful glassware that will add charm and beauty to the glass cabinet.
Also, you can arrange an assortment of vibrant glass items such as wine glasses, cocktail glasses, or vintage glass bottles on the shelves. You can put a few of them right over the cabinet, including glassware-made flower vases. The transparent glass will catch the light and add a visually appealing element to your kitchen.
Moreover, you can put a few artificial or even natural flowers in the glass or Plexiglas-made flower vases. It will speak about your taste in nature and aesthetics, too.
White paint:
One of the simplest yet most effective ways to decorate upper glass kitchen cabinets is white paint. White gives a clean and timeless look to any space. Also, it can effortlessly complement any kitchen style or color scheme.
You can paint the inside or back panel of the upper glass cabinets in white. It will create a bright and airy backdrop to display your favorite dishes, glassware, or decorative items. As you see, the white paint and decorative glassware combo will look perfect for the glass cabinet.
Also, cabinet contents will truly pop against the crisp background, thanks to the fresh coat of white paint.
It also reflects light, making your kitchen appear larger and more open.
You can also add stenciled patterns or textured finishes to add some extra pizzazz to your painted cabinets. 
For this, you will need a nice and clean paintbrush and ½ quart of high-quality white paint. With a few hours of DIY painting job, you can pop up the upper kitchen cabinet superbly.
Organize Matching Dish Sets: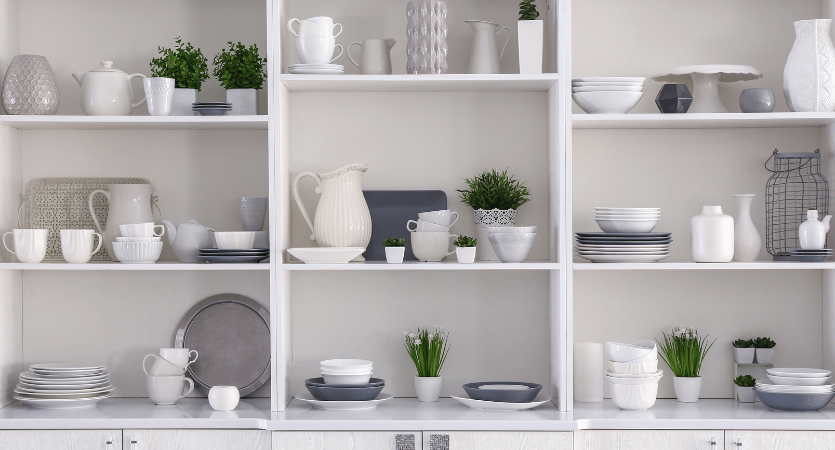 A matching dish set can give your upper glass kitchen cabinets a touch of elegance. You can organize and display matching dish sets inside the glass cabinet or above it. As it has a white painted background, the dish set will pop up and give the entire kitchen an elegant appearance.
You can stack plates, bowls, and saucers neatly to create a coordinated look. The approach will add style to your cabinets. Also, it makes it convenient to find and access your dinnerware, especially when you have invited someone and keep everything within reach.
Feature Artistic Pieces:
You can inject personality into your kitchen decor with artistic pieces in your glass cabinets. As you dedicate the upper glass cabinet to some artistic pieces, it will speak about your taste. Also, people will know about your likings and are more likely to appreciate your choices.
Consider displaying decorative porcelain plates, unique pottery, or hand-blown glass sculptures. Also, add a charming glass watch or artwork of glass to complement the cabinet look. All these artistic accents can become conversation starters. No doubt, these artistic pieces will also create a focal point within your kitchen.
Utilize Kitchen Plants and Herbs: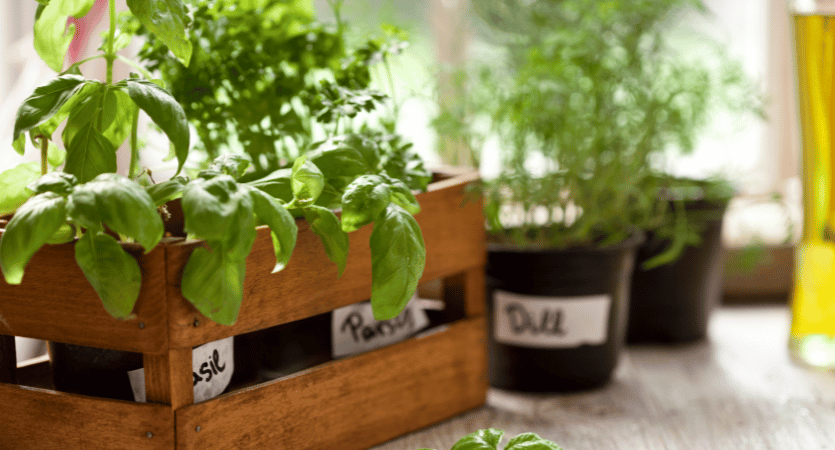 We all want to be close to nature but can hardly find any escape from nature. So, why don't you bring the freshness of nature into your kitchen? You can use the space of the upper glass cabinet for natural sanity.
For this, you can use different plants, indoor succulents, and herbs. Place potted herbs, such as basil, rosemary, or mint, on the upper shelves of your glass cabinets. The vibrant greenery adds a pop of color and a natural, inviting atmosphere to your kitchen. Also, you will feel like being close to nature. Just make sure you water and remove the dead leaves of the plants regularly.
Also, occasionally, bring them to natural sunlight. Doing all these will further improve your connection to both nature and kitchen activity.
Showcase Fine China and Collectibles:
Do you have fine china or collectible items? If so, the upper glass cabinets are an ideal place to exhibit them. You can even buy a few fine china and collectibles from the local market to showcase it on the upper kitchen cabinet. 
You can arrange:
Delicate teacups
Heirloom serving dishes, or
Antique figurines on the shelves
All these collectibles will add a touch of sophistication. Furthermore, it allows you to appreciate these cherished items every day.
Incorporate Lighting:
Lighting and fixtures are something that will always bring aesthetics to any place. All you need is to arrange the lighting properly to give the kitchen cabinet its distinctive appearance.
So, you can incorporate different lighting techniques to enhance the visual appeal of your upper glass cabinets. You can install small, discreet LED lights on the inside of the cabinet to illuminate your displayed items. This creates a soft, warm glow that highlights the objects and adds a touch of magic to your kitchen.
You may even add the LED lights right above the cabinet wall. It also creates a colorful ambiance that looks impressive. Also, you can place scented candles for a romantic night.
Decals:
Decals are a fantastic way to customize upper glass kitchen cabinets. These decorative stickers come in various designs, patterns, and colors. Therefore, you can confidently customize the look of your cabinets with ease. Whether you prefer floral motifs or geometric shapes, there's a decal out there for every taste.
One of the great advantages of using decals is that they're easy to apply and remove. You can change up the design whenever you want without worrying about damaging the cabinet door. Plus, if you're renting or want to avoid making permanent changes, decals are an ideal solution.
Moreover, decals will create visual interest in otherwise plain or boring cabinets. So, you can add decals strategically on the glass panels to draw attention to specific areas. Also, it is a cost-effective alternative to other decorating options like wallpaper or paint. They allow you to achieve a stylish look without breaking the bank.
Use Elegant Textured Glass:
If you want to add a touch of privacy while still displaying your kitchenware, consider using elegant textured glass for your cabinets. Frosted, patterned, or seeded glass can provide a stylish backdrop for your items while obscuring the view inside.
This option allows you to strike a balance between showcasing your cabinet contents and maintaining a level of privacy.
Contact paper:
Contact paper is another versatile and cost-effective way to decorate upper glass kitchen cabinets. Like the decals, it also has different colors, patterns, and textures. So, you can customize the cabinet look according to your style preferences. You can add a sleek and modern design or a charming vintage vibe with the contact paper without much fuss.
One of the great things about using contact paper is its ease of application. The steps include:
You can measure the dimensions of the cabinet doors
Cut the contact paper accordingly with a utility knife or scissors
Peel off the backing before sticking it onto the glass surface.
The adhesive is strong enough to stay in place. However, you can remove it whenever you want.
If you prefer a minimalist approach, opt for solid-colored contact paper. Conversely, for some visual interest, there are countless patterns available – from geometric prints to floral motifs.
What To Consider When Decorating Upper Glass Cabinets?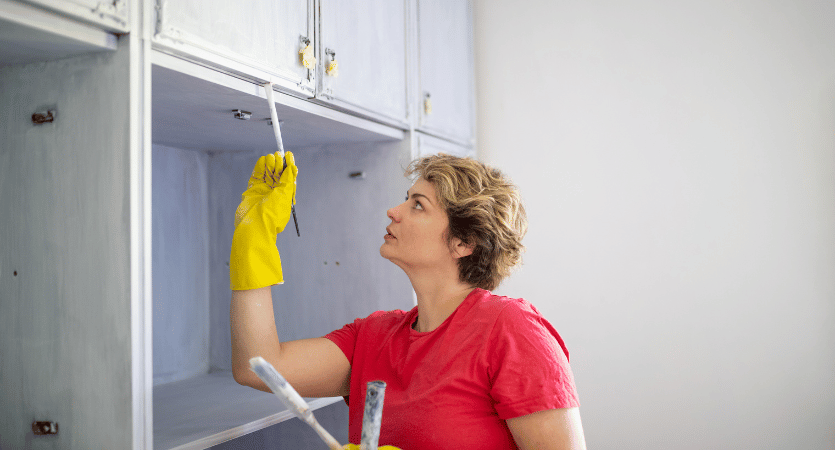 Decorating upper glass cabinets is a rewarding job. However, you shouldn't decorate it randomly, or it will look clumsy. There are a few key considerations to keep in mind when decorating the upper glass kitchen cabinet for a beautiful appearance.
First and foremost, think about the style and theme of your kitchen. The decorations on display on the cabinet should complement the rest of the space. Or a mismatched decoration will make the entire space look ugly.
Next, you must consider the functionality of the decorative piece you use. Of course, the glass cabinets must look beautiful. Nonetheless, they also need to be practical. So, consider what items you will be storing in these cabinets and how they can be showcased effectively. As you determine the functionality, you can easily decorate it.
Next, take into account the size and shape of the glass cabinets. You may determine how much space you have for decoration and what types of items will fit best. Additionally, consider lighting options for your glass cabinets. Proper lighting can enhance the beauty of any decor you choose to display inside.
Don't be afraid to experiment with different ideas and styles. You should experiment until you find what works best for your taste and aesthetic preferences!
Conclusion:
The possibilities are endless to decorate upper glass kitchen cabinets. As you know how to decorate the upper glass kitchen cabinet, you can literally decorate it the way you want. From decorative glassware to dish sets and ambient lighting, all can transform a simple kitchen cabinet into an amazing focal point of your kitchen setup.
Also, consider your budget, taste, and kitchen space for a cohesive look. There's no limit to experimenting until you find your perfect upper glass kitchen cabinet decoration.