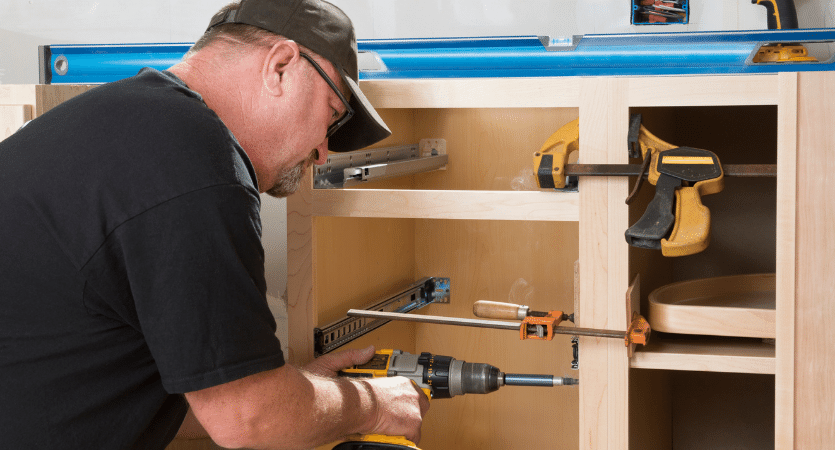 Many old homes have damaged kitchen cabinets. Also, most homeowners will find their old cabinets smaller when their family grows big. Next, you might see the painting of the cabinet has worn out with time.
You would want to replace or repaint the cabinet in all these cases. But, can you do it? Do you need permission from plumbing and housing authorities? Well, most people don't know the answer. So, they ask, "Do I need a permit to replace kitchen cabinets?"
You won't need permission to replace or remodel the kitchen cabinet. However, you might need permission when remodeling the kitchen. Hence, is it essential to know when you need permission for kitchen improvements?
Do I Need A Permit To Replace Kitchen Cabinets?
Do you plan to replace your kitchen cabinet? When you think about redoing the cabinet to make it larger or look eye-pleasing, you will first consider its permission requirements. It is crucial as most of the time, the kitchen's plumbing system will be right inside the cabinet walls.
Thankfully, you don't require permission for the basic kitchen cabinet improvements. You can replace, shift or repaint the kitchen cabinet without permission from counties, local building, and plumbing authorities. Federal and state laws don't require homeowners to get permission to work with their kitchen cabinets.
It is a great relief since taking permission from different authorities only to replace a simple cabinet can be hectic. You can replace the cabinet whenever you want. So, you can start replacing a kitchen cabinet whenever you see any damage.
Plus, you won't require any permission for many of the kitchen improvement works. On the contrary, there're a few kitchen remolding steps when you must take permission from the related authority. In the next section, we will discuss which kitchen improvement needs permission and which won't.
When Don't You Need Any Permission?
You won't need permission when you plan for basic kitchen improvements without changing the plumbing or electrical layout. The list includes:
Installing new cabinets.
Painting cabinets.
Redoing your kitchen floor.
Painting the kitchen.
Changing the cabinet direction.
But the list doesn't end here. If you need to redo the floor under the kitchen cabinet, you can proceed with it without any permission. Also, you won't need permission to install new kitchen appliances and add a secondary island. But it applies as long as the new appliance or island doesn't require any electrical or plumbing works or redoing.
If you need to change the plumbing or electrical layout of the kitchen for a new cabinet, appliance, or island installation, you will need to take permission. Usually, you will need a "No Objection Letter" from the local plumbing and electrical authority.
When You Will Need A Permit For Kitchen Improvement?
A kitchen doesn't comprise of the cabinet only. It has many segments, including plumbing, electrical wiring, island, faucet, P-trap, etc. Hence, a kitchen redoing can be of different types. Following it, you will need permission for the below-mentioned works.
Plumbing works:
When you plan any plumbing changes, you will need a no-objection certificate. It includes new sink installation, sink relocation, and any change that leads to the sewer line. You might need permission to replace or change the water heater in many counties.
Electrical works:
You must get a permit when you update the electrical wiring or outlet. You will also need permission to change the wiring layout for safety purposes. Plus, you must call a certified electrician to perform the redoing tasks.
Structural changes in the kitchen:
The structural change includes moving or adding load-bearing walls or pillars in your kitchen. Since it is linked with the building codes, you can't proceed with the changes without permission. Also, you will require a no objection letter for removing the kitchen door, skylights, or windows.
So, we suggest you check your local building codes to see which improvement will need permission. It will be a good idea to visit your local country and know it in detail.
Changes in the duct system:
Do you want to change the ducting of your kitchen? Or do you need to reroute or install a new air conditioner in the kitchen? You will need a permit letter for all these ducting works.
What Types Of Permission Will You Need?
Depending on the kitchen improvement you plan, you will need various permissions. Also, at times, you will need multiple permissions. Firstly, you will need tread-specific permission. It includes plumbing, electrical wiring, and mechanical permissions. You will need to get the permit from the associated authority for the redoing works.
For instance, you will need permission from the local municipality when you redirect the sewer line. Another type of permission is a "building permit." When you make any structural changes in the kitchen, you will need it.
Tips On Getting Permission for Kitchen Improvement:
Many people find it hassling work to get no-objection letters for kitchen redesigning. So, here're a few tips that will ease the permission process.
You need to call an expert drafter to outline possible changes. Also, use the existing outline of your kitchen plumbing and electrical systems.
Once you have the drawing in your hand, you need to submit it to the local offices. You will also need to pay the fees for inspection and certification.
Alternatively, you may consult a local contractor and handover them over the project. They will draw the outline, get permission, and finish the redoing project.
Frequently Asked Questions:
Do you need a building permit to renovate a kitchen in Ontario?
You won't require permission to renovate the kitchen as long as it doesn't need any structural changes. However, you should consult and get the job done through a professional.
Does renovation require a building permit?
Yes, you will need a building permit to renovate the plumbing and structural system. You can redo and replace the kitchen cabinet and floor without any permission.
What is the cost of a plumbing permit in NYC?
You will need to pay $100 for the plumbing permit in NYC. The cost will vary from one state to state with a range of $50 to $300, mostly.
Conclusion:
When you replace the kitchen cabinet, you won't need any permission. Plus, the DIY kitchen cabinet replacement is straightforward. You may accomplish the remodeling project within a few hours. If you want to change the plumbing or electrical wiring of the kitchen, you will need the right permit. So, you should consult local contractors for quick renovation work.