We all desire a clean and hygienic bathroom. Similarly, the last thing anyone wants to deal with is a clogged and odorous toilet. Unfortunately, human feces, with its high-water content and organic composition, can sometimes block the bathroom and create a stinky odor you would never want. Also, a toilet bowl with human feces is a germ factory. 
Thankfully, several chemical substances are available to dissolve human feces in toilets effectively. It will help to clear the blockages and maintain a smooth flow. So which chemical dissolves human feces in the toilet? Also, what are the ways to eliminate odor from the toilet?
You can use powerful enzymes, bleach, or acidic solutions to dissolve feces and unclog the toilet. Also, you may apply essential oil or automatic toilet bowl cleaner to get a pleasant smell from the toilet. So, let's jump into the maintenance of your bathroom.
Which Chemical That Dissolves Human Feces in Toilet?
Human feces might be difficult to dissolve as it clogs the toilet over time. If you last cleaned the toilet bowl a long time ago, it can be a serious problem. So, let's see the ways to remove human feces from toilet bowls and pipes to help them remain hygienic and clean.
Enzyme-Based Cleaners:
Enzyme-based cleaners are a popular choice for breaking down human feces in toilets. These cleaners contain specific enzymes that target organic matter, including fecal material. You may use the following enzyme-based cleaners to dissolve human waste and clean septic tanks:
Protease
Lipase
Amylase
Cellulase
Urease and
Xylanase
When applied to the toilet bowl or flushed down, the enzymes break the solid waste into smaller particles. So it becomes easy for you to flush away the feces. These cleaners are typically non-toxic and environmentally friendly, so is a safe option for regular use.
Moreover, these chemical-based enzymes and toilet chemical additives can also break down fats, oil, grease, starch, etc. So, they provide you with complete toilet and septic tank cleaning facilities. 
Sodium Hydroxide (Caustic Soda):
Sodium hydroxide, commonly known as caustic soda, is a highly alkaline substance. It has a 13.5 pH level that reacts with human waste to dissolve it fast. So, it is often used in drain cleaners.
When it comes into contact with human feces, the alkaline substance reacts with the fatty acids present in the waste. It converts them into soap. Also, the reaction helps break down the fecal matter and allows it to dissolve. Naturally, it facilitates easy flushing.
Nonetheless, when handling caustic soda, you should be cautious. We recommend you wear gloves and safety goggles, which can cause burns and eye damage if not used properly.
Hydrogen Peroxide:
Hydrogen peroxide is a common household disinfectant. The good thing is it can also effectively dissolve human feces in toilets. It is known for its oxidizing properties, which help break down organic matter. When poured into the toilet bowl, hydrogen peroxide releases oxygen.
It then reacts with the fecal matter, causing it to break apart and dissolve. It is vital to ensure that the concentration of hydrogen peroxide used is suitable for the task at hand. Usually, 3% hydrogen peroxide helps dissolve human feces better than chlorine-based bleach. It doesn't cause any chlorine-like smell, which may feel unpleasant.
Hydrogen peroxide is also helpful in removing domicile cup fungus from the bathroom. 
Baking soda and vinegar:
Baking soda and vinegar are two everyday household items that you can use to unclog a toilet. Mixing them together creates a chemical reaction that produces carbon dioxide gas. It breaks down the feces and helps in dissolving them faster.
You must first pour one cup of baking soda into your toilet bowl to use this method. Then, slowly add two cups of vinegar while stirring with a wooden spoon or brush. Allow the mixture to sit for 30 minutes before flushing with hot water. Finally, you can flush off the toilet with hot water for a clean toilet bowl. It will also dissolve soap scum and other residues within the drainpipe.
It's important to note that this method may only work on somewhat stubborn clogs or larger feces. Also, it's not recommended for toilets made from porcelain as it can cause damage over time.
The best thing is using baking soda; vinegar is generally safe for septic systems. Plus, it is an easy and inexpensive DIY solution to dissolve human feces in the toilet.
Other ways to remove poop from the toilet
Apart from the chemical solutions, there are other ways to remove poop from your toilet. Follow these suggestions if you dislike using harsh chemicals.
One of the most effective and traditional methods is using a plunger. A plunger creates suction that can help unclog any blockages in your pipes.
Another method is using a plumbing snake or auger. It's a long flexible coil that you insert into the toilet bowl and then turn to break up any clogs present.
Also, pour hot water into the toilet bowl. It dissolves waste products and loosens them up for easier removal when flushing. However, ensure that the water isn't boiling hot, as it may cause damage to porcelain bowls.
Also, you may add dish soap to the toilet. Small dish soap in the toilet bowl will break down fecal matter. You should squirt a small amount of dish soap into the bowl and let it sit for a few minutes before attempting to flush.
What Dissolves Poop Fast in Toilets?
Our recommended chemical and toilet additives can quickly dissolve and remove human waste from the toilet. However, using harsh chemicals on expensive toilet bowls such as porcelain may be a bad deal, so you might opt for other practical ways.
So, here we go:
You should choose toilet paper that dissolves fast with water. It will speed up the dissolving of the human feces.
Your toilet flushing system needs to be robust. It won't work correctly if the toilet flush works slowly or has low-water flow. Thus, always choose toilet flush with a faster and more powerful flush mechanism.
You must ensure the water flow is as powerful and high as possible. Low-water flow may not flush off the poops faster.
How to remove bad odor from toilet?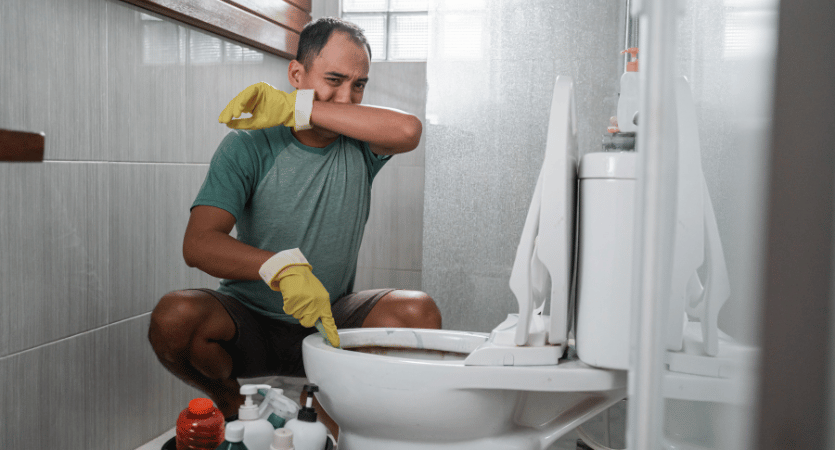 Keeping your toilet clean and hygienic is crucial. And undoubtedly, our chemical-based suggestions will help you remove poop and unclog the bathroom soon. However, it is also essential to maintain an odor-free toilet. But how can you remove odor from the bathroom?
Here are some tips to help you remove the unpleasant smell from your toilet:
Clean the toilet regularly:
The most obvious solution to eliminating toilet odors is to keep it clean. Ensure you regularly clean the toilet bowl, seat, and lid with an all-purpose cleaner or a mixture of vinegar and water.
Use baking soda:
Baking soda is a natural deodorizer that can help eliminate unpleasant odors in your toilet. Sprinkle a cup of baking soda into the toilet bowl and let it sit for at least 30 minutes before flushing.
Use white vinegar:
White vinegar is another natural solution to eliminate toilet odor. Pour a cup of white vinegar into the toilet bowl and let it sit for a few hours before flushing. You can also use vinegar to clean the toilet bowl and other parts.
Try essential oils:
Essential oils like lavender, peppermint, and lemon have natural deodorizing properties and can be used to freshen up your toilet. Add a few drops of essential oil to the toilet bowl or make a natural air freshener by mixing essential oils with water in a spray bottle.
Use an automatic toilet bowl cleaner:
Automatic toilet bowl cleaners are designed to continuously clean and deodorize your toilet bowl. They come in various forms, such as tablets, gels, and cartridges, and can last several weeks. Plus, you may use toilet bowl cleaner with blue additives for a pleasant smell. 
Improve ventilation:
Poor ventilation can lead to moisture buildup and unpleasant odors in your bathroom. So, ensure that your toilet is adequately ventilated. You can do it by opening windows or installing a ventilation fan.
Can Coca-Cola Remove Human Feces In Toilets?
Coca-Cola is a popular home remedy for unclogging drains, but its effectiveness is debatable. While it may help break down some blockages and loosen clogs, it is not a reliable or recommended method for unclogging drains.
Coca-Cola contains phosphoric acid, which can help dissolve certain types of blockages. However, it is not strong enough to dissolve larger blockages or those caused by materials like hair or grease. But it can remove human feces.
Additionally, Coca-Cola is a sugary drink that can leave residue in the drain and attract more debris, leading to further blockages.
There are more effective and safer methods for unclogging drains, such as using a plunger, drain snake, or commercial drain cleaner. These methods are specifically designed to eliminate different types of blockages and are generally more reliable than using Coca-Cola.
Frequently Asked Questions:
What dissolves poop in the toilet faster?
You may use 3% hydrogen peroxide, bleaching powder, or enzyme-based cleaning agents to dissolve and remove poop faster. Also, a baking soda and vinegar mixture with hot water works well to dissolve human waste.
How do you get rid of poop that won't flush?
You may use caustic soda or chlorine-based bleach to eliminate poop that won't flush. It has a 13.5 pH level making it highly alkaline and reactive to dissolve almost anything within the septic tank and drains.
How long does it take to dissolve poop in the toilet?
Dissolving human feces in the toilet takes 20 to 30 minutes without suggested chemicals. Baking soda and vinegar mixture will take longer than bleaching agent and caustic soda.
Conclusion:
Maintaining a clean and functional toilet is essential for a hygienic environment. Chemical substances can provide practical solutions when faced with stubborn toilet clogs caused by human feces. So, which chemical dissolves human feces in the toilet?
Enzyme-based cleaners, sodium hydroxide, and hydrogen peroxide are among the chemicals commonly used to dissolve fecal matter in toilets. And to eliminate the odor, you may use toilet blue additives, baking soda, and essential oil. So, use these chemicals to maintain proper hygiene and cleanliness in your toilet. It improves not only its functionality but also its look.